Do you want to explore the architectural wonders of the world? If yes, you must plan to visit Dubai at least for one time in your life. Whether it is Miracle Garden, Dubai Mall, or anything else, you will view wonderful spots during your Dubai city tour, as mentioned in our blog post.
Amazing Places for your Dubai city tour
Burj Khalifa
Burj Khalifa is one of the famous and exotic places to explore in Dubai. It is a unique skyscraper, which has 8 escalators and 57 elevators. The interior areas of Dubai Burj Khalifa and its ambiance highlight artistic exuberance. The design of the building highlights the famous Islamic architecture of the local area.
Especially, you should never miss viewing the Observation deck situated named The Top on its 124th floor. An interesting aspect is that the deck allows you to explore the bewitching of the entire Dubai City. Besides, the inside of the deck has a fountain, which stays illuminated with 6,600 lights.
Dubai Fountain
Another awesome sight to view is the Dubai Fountain, which is the worldwide second largest and well-choreographed fountain in the world. The fountain is at a towering height of 900 feet. Furthermore, it stands at the center of the famous Burj Lake and entices thousands of tourists. Every evening a large number of tourists visit here to experience the city's nightlife.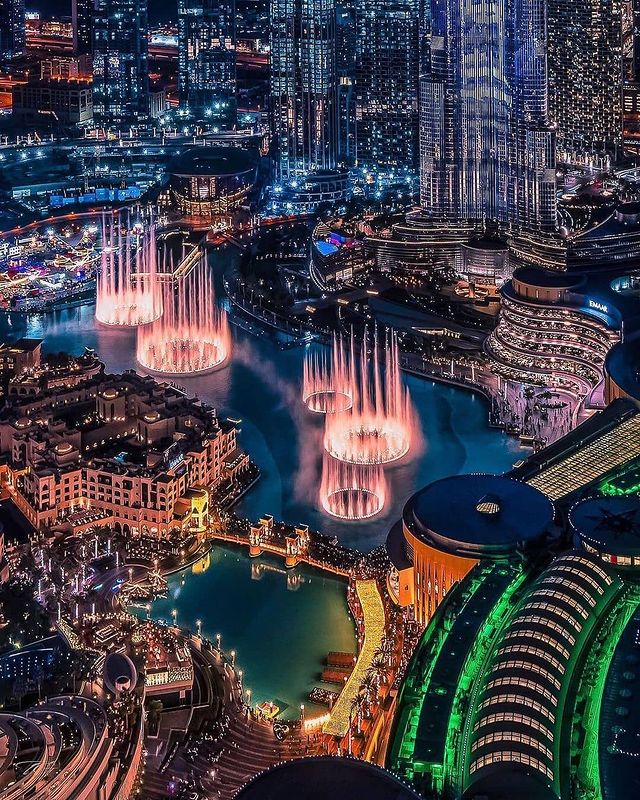 Alternatively, a few other people enjoy music and light shows hosted in the Dubai Fountain every evening. Particularly, the music shows go on different rhythms and songs from contemporary, classical to English and Arabic. Especially, Al Wasi Opera is a piece of popular Arabic music and is popular during the fountain music shows. The music was also a center of attraction of the Dubai Expo 2020 festival hosted last year in Dubai.
Palm Islands
Palm Islands consist of a set of 2 human-made islands named the Palm Jebel Ali and Palm Jumeirah. Tourists get a chance to visit the only completed Palm Island i.e. Palm Jumeirah. The island is in palm tree shape and is a popular tourist place in the city. Moreover, maps highlighting Dubai city images show that atop a skyscraper or air is the best way to view the island. Alternatively, you may take a speedboat to make your tour to the islands and other surrounding attractions in its vicinity.
Burj Al Arab
Burj Al Arab is a stellar tower present in Dubai City. It is home to many 7 star hotels in Dubai. Other than breathtaking views, the hotels include plenty of amenities to give you royalty feelings. The mentioned attraction of Dubai is on the 56th floor of the skyscraper building and remains open for a year around.
An interesting aspect of Burj Al Arab is that it caters to all who want to live their lives largely. You may find many rooms to experience your pleasant stay or choose for a day tour to explore its restaurants and bars. Especially, you will get a chance to enjoy tea and cocktails in Sky View Bar while visiting the Burj Al Arab Jumeirah hotel.
Dubai Underwater Zoo and Aquarium
Want to get an enthralling experience of marine life, just visit the famous Dubai Underwater Zoo and Aquarium. It is the worldwide biggest suspended aquarium to explore during your Dubai city tour. The underwater zoo has varieties of sand tiger sharks and various other endangered species conserved in their nature's habitat.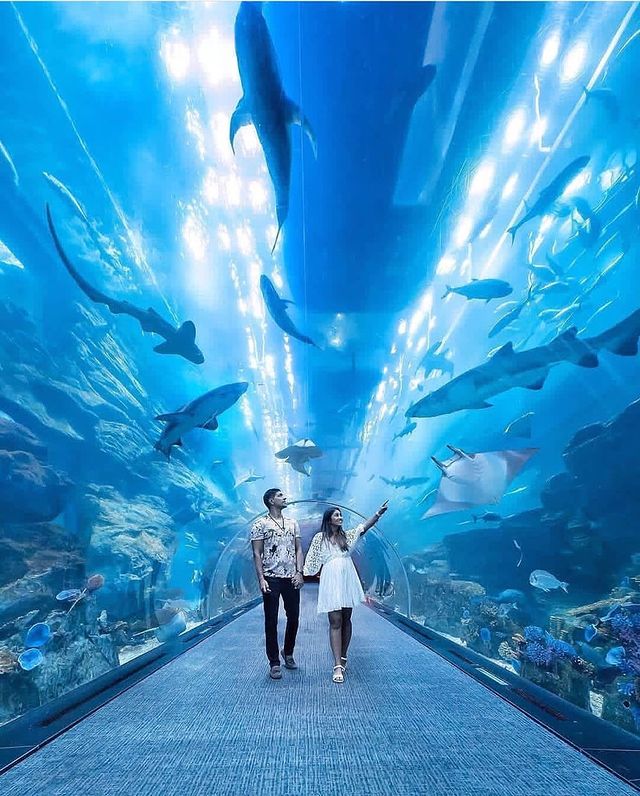 In contrast, the aquarium has more than 140 aquatic species and different ecological zones to view and study both. These include the living ocean, rocky shore, and rainforest. Especially, an easy walk on a tunnel of 48meters will give stunning views of the rainforest and the glittering ocean.
Dubai Dolphinarium
Want to view the greatest amusement of Dubai, just take a Dubai city tour to the famous Dubai Dolphinarium. Here, you will find many venues, which include Fish Farm, Coral Reef Aquarium, Gatorville, and others. The dolphinarium intends to entertain and educate visitors belonging to different age groups and to emphasize the need for dolphin conversations safely. Besides, you get a chance to swim with dolphins and be at a party of different events.
Dubai Marina
Dubai Marina is a conceptualized human-made canal city of Dubai. It has exquisite waterfront development across the shoreline of the Persian Gulf. The marina provides you luxury lifestyles with plenty of leisure options, upscale shopping centers, and classy hotels. The canal city also has a complex called Dubai Marina Mall with many entertainment and shopping destinations.
Global Village
Are you looking for a tourist spot in Dubai city tour, which has plenty of cultural and family attractions with family entertainment? You must visit the famous Global Village in Dubai. The venue gives you a unique shopping experience with its 31 different pavilions. An interesting aspect of pavilions is that they represent different countries across the world. Global Village is also famous for hosting more than 12,000 different shows that too in only 5 months.
Ski Dubai
Other than exploring the wonderful architecture of the world, Dubai tourists will get an opportunity to involve in skiing activities. You must visit Ski Dubai in your Dubai city tour, which is an indoor resort of 22,500 square meters dedicated to skiing activities. The resort remains covered with snow to allow you to enjoy many indoor snow activities. Moreover, by being in the unique winter wonderland, you may dream to stay in the Alps. Along with this, you will find the Snow Park at the famous Ski Dubai. It is a whopping winter bliss spread in an area of 3000 square feet.
Here, you can everything you want to make your day special. These include snowboarding, skiing, creating a snowman, viewing the parade of penguins in a park, and enjoying chairlifts in a day. If this is not enough, you may find the famous Avalanche Café, which allows you to hike up or experience a chairlift. Here, the temperature is -4 degree Celsius, because of which Ski Dubai has become a popularly visited place for all want to get a lifetime experience.
Dubai Miracle Garden
If you are a nature lover and looking for activities to perform in Dubai you should go to the Dubai Miracle Garden. What would be exciting than viewing the largest natural flower garden amidst the Dubai City deserts? Furthermore, the garden highlights different models in fresh flower designs and patterns. These include the famous Burj Khalifa, vehicles, animals, and others. Gardeners have also installed machines to allow the models to change their shape, move and light up at certain intervals.
Therefore, the city of Dubai will give an ultimate experience of life with architectural wonders, thrilling activities, and many more.