Introduction to Burj Khalifa
Do you want to explore a living wonder of the world? Just plan your tour to Dubai to view Burj Khalifa at least once in your life. Besides the tallest building in the world, Dubai Burj Khalifa is known for its stunning artwork and outstanding engineering work. The tallest building is tangible proof of the growing role of Dubai in today's changing world.
Interesting Facts of Burj Khalifa
A large number of innovative minds people have used solid science and developed many visionary ideals to design Burj Khalifa. Based on this, the construction project has obtained tons of awe-inspiring figures, facts, and statistics, which we have revealed here.
List of World Records made by Burj Khalifa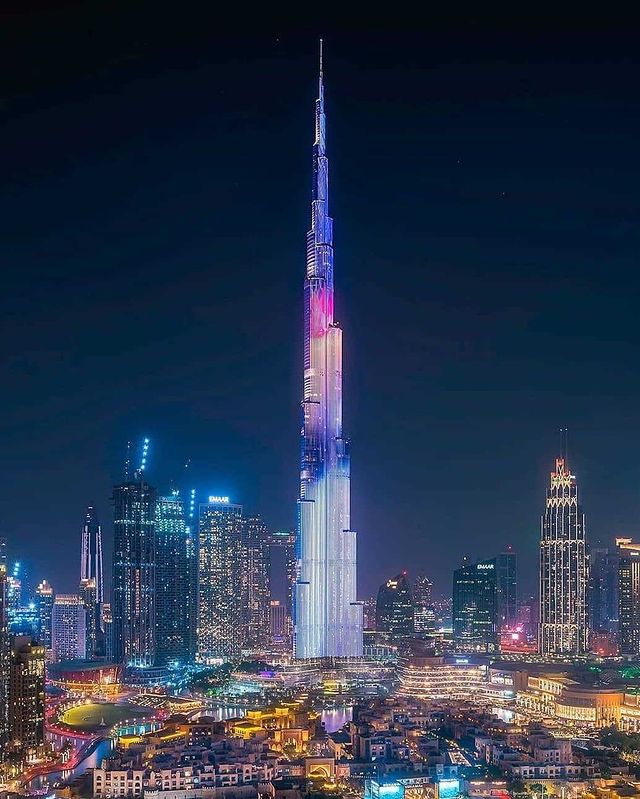 If you look at the image of Burj Khalifa, it is about 828meters in height and has approximately 160 stories. The building has succeeded to achieve the following records-
The tallest building and the tallest service elevator in the world
The tallest free-standing structure across the world
Elevator with the longest distance to travel in the world
Building with the highest number of stories across the world
The highest outdoor-based observation deck and occupied floor of the world
Hold the Crown of the Tallest Building of the World for 10 Years
Another interesting fact of Burj Khalifa is that it has succeeded to hold the crown of the tallest building in the world for 10 years. Moreover, history buffs have predicted that the building will continue to keep the respective crown for the upcoming 3 to 5 years as well.
Building in Desert Lily or Y Structure
Images of Burj Khalifa highlight that its tower is according to a shamrock footprint so that it appears similar to the letter Y from the air above. Designer Adrian Smith from Chicago designed it by deriving its shape from a popular desert lily named Hymenocallis. The main role of such a structure is to reduce the Tower's cross-section area gradually as it goes up.
On one hand, the Y-shaped building indicates its stability for many years. On the other hand, this type of shape is suitable for residences and hotels, where one has to focus on outdoor scenery seriously. Here, the Y-shape design provides people living there with stunning views.
Hence, the lower part i.e. below 108-level is for residences and hotels, as here Y-shape is apparent. In contrast, the upper portion is reserved for offices, where Y-shape has transformed to an almost circular shape. This will allow employees and office staff to focus on their work only instead of the outdoor scenery.
Number of Floors in Burj Khalifa
Whenever history buffs or other travelers search how many floors in Burj Khalifa, or anything similar, they get the total number of floors equal to 163. However, even if we ignore the spire, how a building of 828meter height can have only 163 floors.
The reason is that each of the floors above 163-level and below the spire act as the spire's base structure. These structures are neither for any mechanical use nor are habitable. Accordingly, Burj Khalifa has 46 such floors, which play the role of the base structure for the entire building. If you still have doubts related to Burj Khalifa how many floors, we should say that the building has technically a total of 209 floors.
Details of Floors in Burj Khalifa
Floors for Residences/Hotels and Restaurants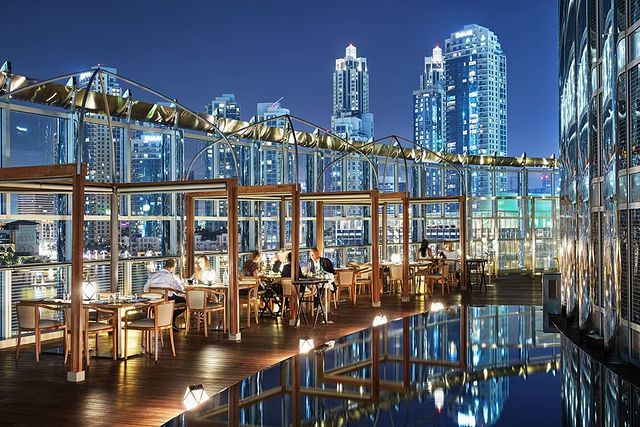 The level up to 39 has many residences or hotels designed by the famous Armani Group. On the other side, floors between level 39 and level 108 are available for residences. Furthermore, level 122 has a restaurant named Atmosphere and other chains of restaurants.
Floors Reserved for Office Spaces
Floors starting from level 108 to level 154 are available as office spaces excluding levels 124, 125, and 148. Instead, these floors have three different observation decks to allow public sightseeing.
Highest Occupied Floor of the Building
Tourists not only ask how many floors are in Burj Khalifa but also ask which the highest occupied floor of Burj Khalifa is? For this, we should say that level 154 at the height of 584meters is the highest occupied floor of the building.
Floors with Observation Decks for Public Sightseeing
You will find three different observation decks on levels 148, 124, and 125 available for public sightseeing. The worldwide highest observation deck is present on level 148 and it is at about 555meters.
Mechanical Floors of the Building
The floors available between level 154 and level 163 are mechanical floors. Here, the numbers of floors are high. One requires covering 2909 stairs in total while moving from the ground floor to up to 160th floor.

Who is the Owner of Burj Khalifa?
Indeed, after knowing the facts and worldwide records made by Burj Khalifa, everyone may develop a curiosity to know the owner of Burj Khalifa. Besides travelers, many other people often ask who owns Burj Khalifa. The answer to this is that Emaar Properties PJSC is the developer of Burj Khalifa. It is the biggest real estate company in the world. Emaar builders have a single inspiration and unflagging enthusiasm to reach the summit of the world.
Places You Should Never Miss to Visit while Going to Burj Khalifa
Now, let us have a look at few places, which you should never miss visiting while go to Dubai Burj Khalifa.
The Dubai Mall

The Dubai Mall is one of the popular and large shopping malls in the world. The building has a large area and features about 1,200 shops, where you get an opportunity to shop your favorite items till you drop them. Besides a pool of shopping opportunities, the mall has plenty of attractions to entice visitors. These include Waterfront Atrium, Lafayette department store, Galleries, Oasis Fountain Waterfall, KidZania, gold, and other jewelry outlets. Other than this, the mall has a luxury hotel consisting of 250 rooms, 120 restaurants, 22 cinema screens, and many more.
Burj Khalifa Park
Burj Khalifa Park consists of flowering trees, 6 different water features, lush green gardens, and palm-lined walkways. The area boasts a playground to entice kids, 2 tennis courts, and a wading pool. The center and base of the park are home to the Burj Khalifa water park. It features a series of swimming pools and water jet fountains.
KidZania
Want to give a wonderful experience to your kids in role-playing; you should never miss visiting KidZania. The venue is similar to a human-made mini-city and spreads across 80,000 square feet. KidZania has everything to entertain kids from 4 years to 15 years.
Reel Cinemas
The Reel Cinemas at the Dubai Mall is a big Cineplex of the city. The spot has more than 22 movie screens and highlights varieties of movie shows. These include the latest international blockbusters, 3D digital titles, and many art-house films. If this is not enough, visitors may find Platinum Movie Suites to get a luxurious experience while enjoying a movie.
Dubai Fountain
The Dubai Fountain is the biggest choreographed fountain system, which is present right outside of the famous Dubai Mall. The fountain is famous for its lake ride and allows witnessing the worldwide largest dancing fountain.
Dubai Underwater Zoo and Dubai Aquarium
The Dubai Underwater Zoo and Dubai Aquarium are at the center of the Dubai Mall. It includes amazing indoor aquariums to explore for visitors. As the worldwide largest acrylic viewing panel, it highlights an exclusive 270-degree walkthrough glass tunnel. Here, viewers get a chance to view varieties of animals belonging to aquatic wildlife. The tunnel features more than 33,000 aquatic animals and more than 220 aquatic species, including sharks and stingrays.
Dubai Ice Rink
The Dubai Ice Rink is one of the Olympic size rinks and it is useful for multiple purposes. The Ring hosts approximately 2,000 guests at a specific time. The venue owns more than 1,800 skates' pairs to allow both adults and kids to enjoy skating. Along with this, as a fun hotspot, it offers varieties of birthday party packages, Public Stake Sessions, Disco Sessions, and business events/functions. The ring also has a massive LED screen, a skating shop for various accessories, and an in-house cafeteria.
Whether you visit Dubai for your business or simply to explore the city, you should never miss visiting the famous Burj Khalifa.