Dubai is known for its quirky attractions. You can zip line in the desert, swim with dolphins, visit an underwater restaurant, skydive, and much more. With its skyline of shiny, new buildings, the United Arab Emirates city of Dubai has pulled off an extensive image overhaul, emerging as a holiday hot spot for both ex-pats and a constant stream of tourists coming for its attractions. And one such unique attraction is the Dubai Frame.
Determined to keep pace with its skyscraper neighbours, the Dubai Frame has officially opened in Zabeel Park, adding an exciting and unique landmark to the city skyline. The 160-meter high structure is said to be the world's largest purpose-built picture frame. It will offer up panoramic views of most parts of Dubai while also framing the iconic Dubai Burj Khalifa for residents and visitors all across the city.
Galleries in Dubai Frame
Dubai Frame is the most prominent picture frame structure in the world. Its ability to stand tall and provide a vantage point is meant to pay homage to Dubai's push towards modernization. Imagine walking on a glass pathway and viewing two sides of the city at once; this is what Dubai Frame is all about.
Past Dubai
Dubai Frame, the new landmark tower, is a modern hub of art galleries, live event spaces, and all things culture. It has mosques with fine silk and gold embroideries, gardens with day-to-day artefacts from over 30 countries. Filmed in 4k and accompanied by a symphony orchestra, this audiovisual experience shows how Dubai has evolved from a small fishing village to today's shopping hub. 3D screens bring the ancient city to life, making it easy to imagine how people lived centuries ago.
Present Dubai
This gallery shows the recent developments in Dubai and victories that have been achieved there in recent times. Here, guests are greeted by a front desk with a glass top and an interior that reflects the colours and textures of the landscape and a streamlined, modern style. You are then led to a glass-topped expressway that ends on the upper bridge of the Baroque. The bridge appears to be floating, suspended in midair, as the guests walk towards it.
This interactive virtual walk will captivate your senses with stunning panoramic views of some of Dubai's most stunning landmarks. At any given time (including during the Eid holidays), one can choose to enjoy a 3-D virtual tour of Dubai from within this virtual world via beautiful and immersive virtual tours. A glass walkway running through the bridge's centre gives a clear view of the ground below, making it an entertaining and thrilling experience.
Future Dubai
The Future Dubai is an innovative art exhibition that takes you on a journey through Dubai in the next 50 years. This is a gallery that will throw in a new dimension to your notion of art. The future gallery is a testament to Dubai's spectacular ambition and eminence on the world stage.
Tips for Visiting Dubai Frame
Anyone who wants to enter the public area of Dubai Frame should comply with these guidelines. Failure to do so may result in a severe penalty.
Smoking is not permitted inside the building. If you're smoking in any of the galleries, you'll be asked to leave immediately.
Do not allow children to sit on the barriers.
No pets are allowed on the property.
Please keep all toys and sharp objects out of the gallery.
Wear clothes that cover your body; otherwise, you could be fined.
Drinks and food are not allowed.
Strollers, luggage carts, and other large items are prohibited.
A guardian should accompany children under the age of 12 years.
Any unauthorized interference with any article or exhibit on display may result in prosecution.
Things to Do at Dubai Frame
Museum
The Dubai Frame is a great place to relax and unwind. Not only does it have beautiful views of the city skyline, but there is a Museum showcasing the facts and figures of the chronicles of old Dubai, its rich tradition, souks, and culture. There are quotes from Sheikh Mohammed Bin Rashid written in different places showing the emergence of Dubai from past to present.
The towering structure of Dubai Frame sits nestled between the old Al Karama and the newer Dubai Creek Tower offering a unique viewing opportunity of both old and new Dubai. It provides a panoramic view of the desert landscape and city lights from top to bottom.
The glowing city lights, cool breeze, and a view of the Arabian Gulf can be enjoyed from the restaurant on the top floor of Dubai Frame. Many restaurants are offering unique and intriguing dining options in Dubai Frame. From an indulgent restaurant serving the best views in town, a locally-inspired menu for seafood lovers, and a fantastic outlet connecting you with the local heritage, you can find anything your taste buds might be craving right here. Enjoy your next culinary escapade by selecting from the offerings of French, Asian, Mediterranean, and American food.
Best time to visit Dubai Frame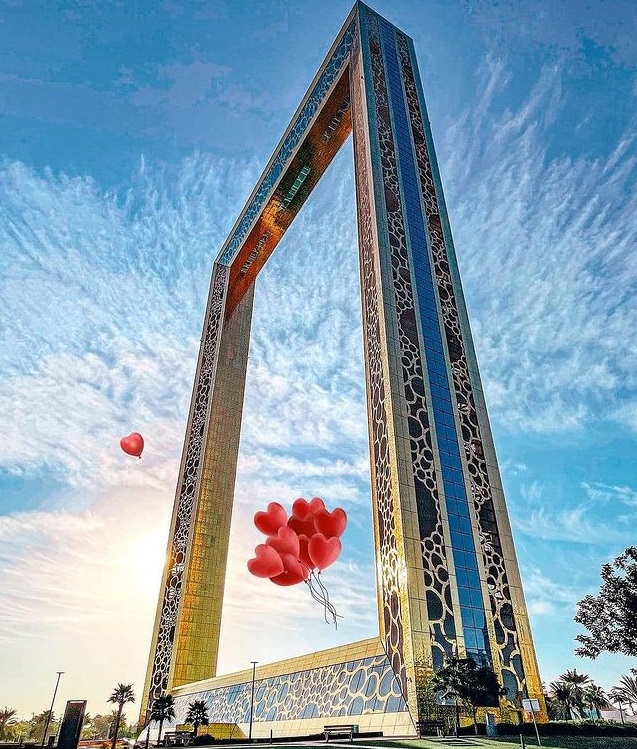 According to the Dubai Frame's website, the time which is most ideal for someone to visit Dubai Frame is around 5 pm when the floodlights illuminate the surrounding area of the frame and change the quiet look of this place into a dazzling one. When you visit Dubai frame on a sunny day, you can enjoy the sight of buildings surrounding the colossal structure. You'll feel as if you are walking in the city street. The frame adds to it by creating huge shadow and light displays on the surrounding buildings, offering an innovative perspective to explore the city.
How to reach Dubai Frame
How you will reach Dubai Frame from the airport will depend on your personal pick and home from your origin country. This is not like other landmarks which take long hours of travelling around and over the traffic jams. The metro service at DXB is easily accessed if you are coming from Al Karama. If you have arrived in DXB via terminal 2, an exit takes you right to the metro station with a few steps. With ample information, maps, and elevators, Line Buses 33 or 237 can be taken for reaching the Dubai Frame.
Places to visit near Dubai Frame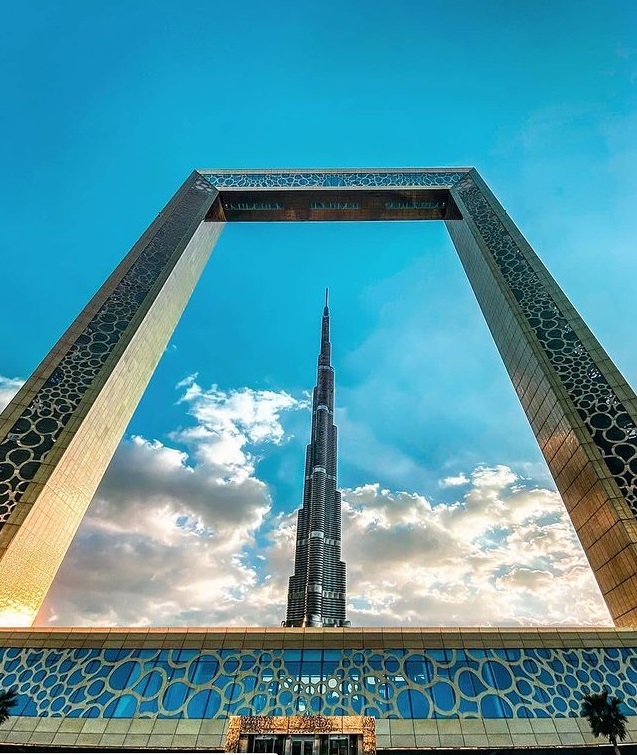 Dubai Glow Garden
Dubai Garden Glow is a park unlike any other. It's a four-in-one park, offering a unique experience to all of its visitors. It is an artistic masterwork, including an art park, ice park, Dinosaur Park, and glow park.
Zabeel Park is a popular attraction among families with children. It offers several attractions, gardens, and playgrounds connected by tree-lined walkways. This park spans across 47.5 hectares alone, which can accommodate up to 2,300 vehicles.
If you're looking for something with a bit of old-school charm, the traditional Gold Souk in Deira will be your first stop. It has over 380 shops selling gold jewellery for both travellers and locals.
The 828-meter tallest building in the world boasts the charming 124-story observation deck to be an unforgettable experience. Plush hotels, luxury residences, beautiful office spaces, and restaurants are signatory and must-visit Dubai Burj khalifa.
The artificial BurjKhalifa lake is decorated with the world's largest dancing fountain, commonly known as the Dubai Fountain. It plays traditional music every 20 minutes and fascinating light and water performances with charming patterns.
Located on the banks of Bur Dubai Creek, it is the first air-conditioned dolphinarium where you can see dolphins and seals. They showcase their antics through live performances and photoshoots.
Brain Game Dubai provides unique concepts for alternative entertainment and escape rooms. Players have an hour to solve puzzles, overcome various obstacles, move from room to room, and finally reach the end.
The Dubai frame tour is one of the best things to do in Dubai. Its location like a dream, and you can do everything in a day or two depending on what you want to do.
The walking tours of Dubai frame are the easiest way to discover this fantastic city and its rich history. What better way to enjoy the beauty of Dubai when surrounded by its historical and cultural attractions than from a cultural walk among those landmarks? The frame tour is recommended by many as one of the best things to do in Dubai during your trip due to its unique location and the diverse activities offered.