Miracle Garden has recently become one of the famous places to visit in Dubai. Dubai Miracle Garden is a flower garden belonging to the Dubailand district in Dubai. As the biggest natural flower garden of the city, it is a prime place to visit on one's Dubai tour. Simultaneously, a trip to Miracle Garden is an important part of Dubai expo 2020.
Overview and Specialties of the Garden
The famous Miracle Garden of Dubai was set up in the year 2013 on Valentine's Day. The garden has more than 72,000 square meters area to become the biggest flower garden in the world. Privileged Aerial View of Dubai Miracle Garden :
Specialties of the garden are-
Firstly, the Miracle garden is a must-visit place for a nature lover. It features about 250 million plants and 50 million flowers.
Secondly, managers adopt a drip irrigation technique to re-use the treated wastewater and retain the flowers in good condition.
Finally, the Garden highlights 150 million flowers in colorful patterns and arches with myriad shapes.
Best Time to Travel to Dubai Miracle Garden
Miracle Garden at Dubai reopens in November every year for its new season that lasts up to May. However, authorities keep the garden close to renovate it during the summer months. However, you must visit Sunday to Thursday at any time from 9 am to 9 pm to enjoy your tour. On the other side, you get two extra hours i.e. from 9 am to 11 pm on Friday and Saturday.
Prime Attractions of Dubai Miracle Garden
Miracle Garden of Dubai is home to many attractions. Hence, it promises to offer a complete entertainment package for its visitors.
Emirates A380
It highlights the model of Emirates A380. This is a double-deck type of jet airliner studded by a huge assortment of colorful flowers belonging to different species. Just enjoy the luxurious beauty of the model. It has everything whether it is Petunia, Snapdragon, or marigold flower.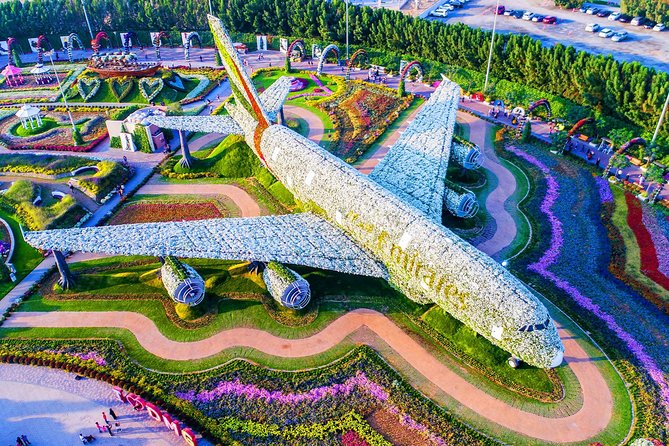 The complete structure of Emirates A380 weighs approximately 100 tons with 500,000 flowers used in the model.
Lost Paradise
Miracle Garden of Dubai lets you explore its underground section to boost the pleasure of the garden's environment. For this, Miracle Garden features Lost Paradise at a depth of 20 feet. The paradise comprises varieties of floral houses and multiple storey bungalows to become the prime attraction of the tourists.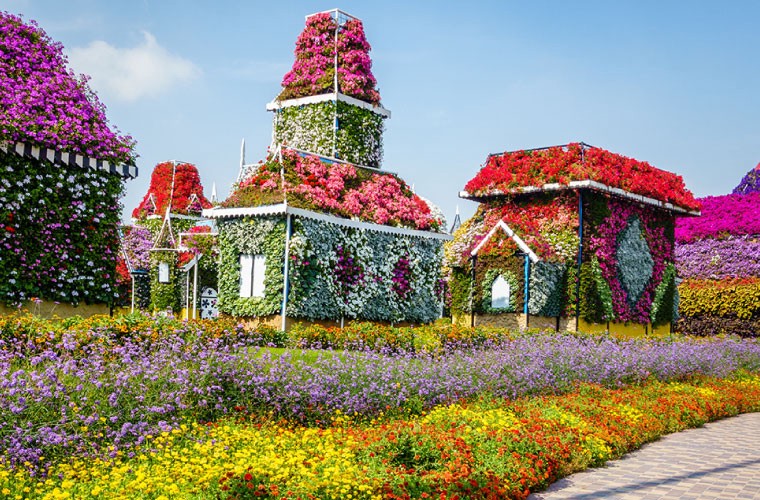 Disney Avenue
Do your young kids love to watch Disney characters? If yes, take your children to Disney Avenue of Miracle Garden. Right from the formation of the structure, it has remained a paradise for children. Disney Avenue highlights different characters of the famous Disney world smiling happily and moving around the city.
Encourage your kids if they insist on capturing a few of the exciting moments with their favorite Walt Disney characters. The best thing is that architects have designed each character by using floral models of 18meters in height.
Cabanas
Exploring and enjoying the beauty of Miracle Garden in Dubai involves going on by the feet. However, walking for many hours is a challenging task. To overcome this issue, you will find a large number of cabanas in the wonderland.
These cabanas let you rest for some time after walking rigorously for long hours. With trendy floor cushions and flowing drapes, Cabanas provide an excellent spot to rest and recharge.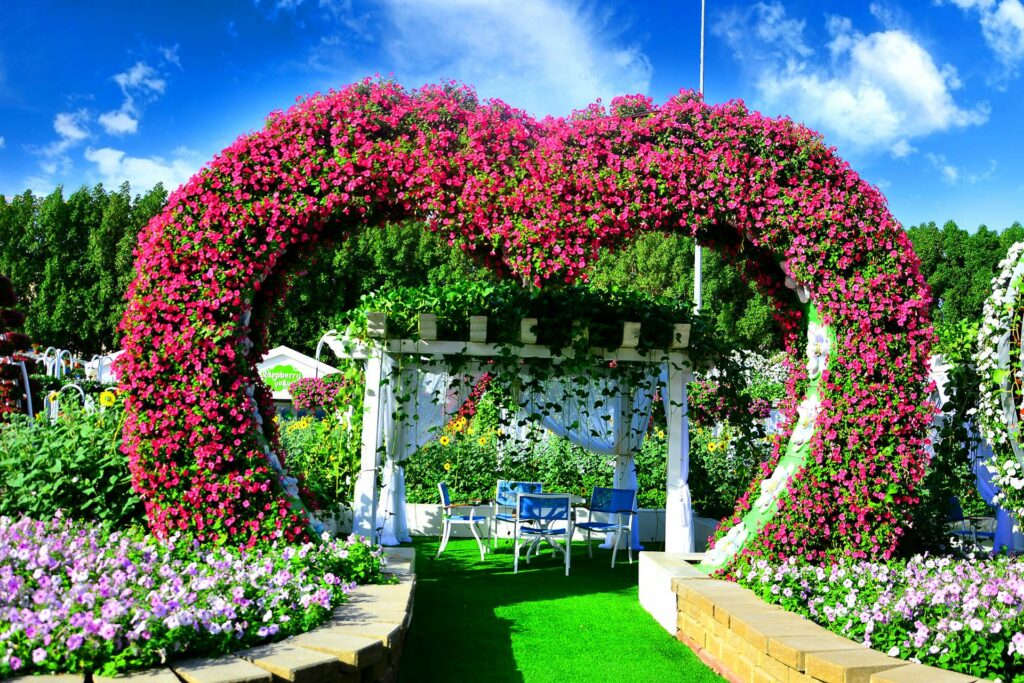 Floral Clock
Especially, another prime attraction is the mighty Floral Clock of Miracle Garden. This clock is 15meters in height and remains studded with attractive plants and real flowers. Moreover, the visitor witness changes in the overall appearance of the Floral Clock according to ongoing seasons of the year.  
Butterfly Passage
As the name highlights, Butterfly Passage is one of the flawless constructions of Miracle Garden. The passage highlights the appearance of many butterflies lined up by following a linear pattern. Mainly, the Experts have designed the structure by decorating it with many colorful flowers. It give an outstanding passage and to give life to creativity.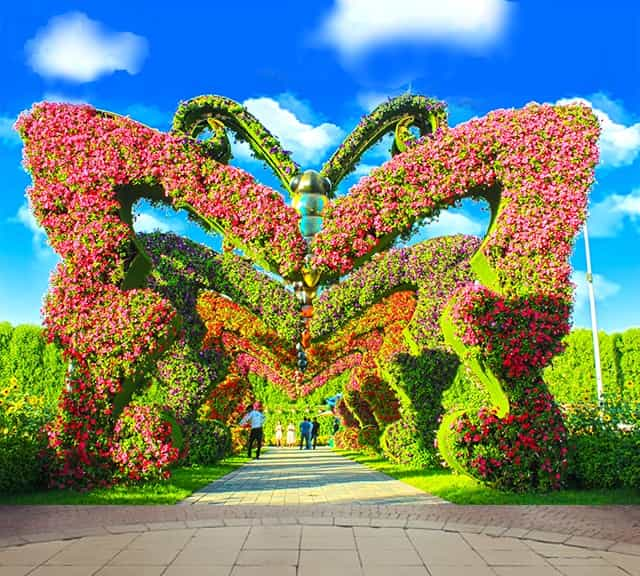 Gazebos
Gazebos of Garden in Dubai highlight the hard work done by many qualified artisans responsible for its creation. Mainly, The beauty of the garden aims to replenish various lost auras of both Victorian and Greek eras.
Floral 3D Designs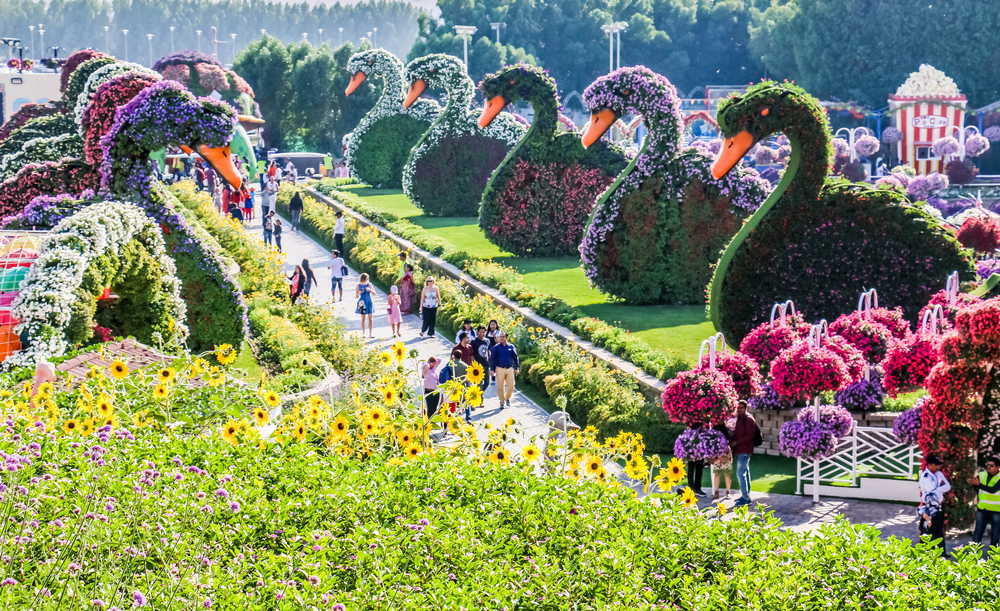 Importantly, 3D Floral Designs are also the major attractions of Miracle Garden to stay for many hours. Here, the creativity highlights an ultimate amalgamation of brilliance and artisanship associated with floral designs.
Overall, Miracle Garden of Dubai city has plenty of distinctive models of popular establishments around the area. The models usually change their shape and provide stunning lights to enhance the beauty of the tourist spot.
Dubai Miracle Garden is just to begin with destination at Dubai. The people who went to Miracle Garden also visit other famous places around like the World's Famous The Dubai Mall which is very close to Miracle Garden. At Dubai Mall you can enjoy Live Fountain show at the edge of Burj Khalifa and can spend your evening amazingly. Not just this, Dubai's famous Global Village is a must visit place in Dubai for which you can get tickets from The Dubai Mall.