Of course, it is exciting to visit Dubai city for the first time! Such excitements are there to treat your eyes. Could you hear about the Global village, which is filled with multiple attractions? The best family destination to make your moments beautiful.
An ideal choice to refresh your mind and let your family members be happy and enthusiastic.
There are tons of tourist places in Dubai city, but GLOBAL VILLAGE is seventh heaven. The one and the only place hold multiple attractions that suit all age-grouped people. It's hard to find a place engaged with all varieties of entertainments but you can enjoy it here. Let's Begin with the 10 must visit things to do at Global Village in Dubai.
1. Multi-national countries under a single roof
Firstly, Is there any way to around the globe in a single day? Why not? The global village is here to catch the cultures and traditions of multi-national countries under a single roof. This is not so possible in all the cities, so if you have an opportunity to move forward to Dubai city visit these wonders. The place covers tons of things in it that surely make this trip a memorable one in your life.
2. Wide Gamuts Of Live Shows And Concerts
Secondly, It's really lucky to see the live shows of famous celebrities whom you love the most. No doubt, these live performances will offer a fantastic feel and makes your heart feel go alive and compel to dance along. You will surely get mesmerized by looking at the giant stage and huge lighting, amazing sound effects and people jumping around. YES ! Such magic will happen.
3. Treat You Mouth With Various Delicacies
Is anybody to say "no" to mouth-watering dishes? I guess NO! . Here at Global Village, You will get a chance like never before, to taste a variety of food items that are familiar to Dubai city. Food Street lives is in the Heart of Global village. So you will find tons of food stalls representing the taste of all the countries.
If you are a food lover and love spending time tasting authentic food flavors, this place is definitely waiting for You and will immensely satiate your taste buds. Feel free to visit the stalls and taste the food varieties that you like. I am sure the taste will stick to your tongue and heart forever and let you have it again and again.
4. Exciting Carnaval Rides – Global Village in Dubai
Unbelievable Carnaval Rides feel all under one roof – is a Dream Come True situation ,Especially for kids and Ride lovers. Starting from Fly France to Jamaica Drum to Moscow Max, there are countless rides at Global Village in Dubai. Non Stop fun and excitements at every door step is the identity of Global Village. Get a chance to take a Glimpse of these Carnaval Rides and feel the fun.
5. Live Regional Performance
Dubai's Authentic culture and music will make you fall in love one more time. Music that touches your soul is running at every 2nd street inside Global Village in Dubai. From their costumes to their instruments and their aura, everything will make you pause instantly and remove all day tiredness in no seconds.
Take a glimpse of the Regional Music of Dubai here, especially captured for you all by the VisaDekho team.
6. A Real Feel Of Fantasy Island
No one is here to hate the amazing of the island! Is it true? Well, the entire look and appearance of the Global Village in Dubai will offer the feel that you are standing in your Fantasy Island. No doubt, the things that surround over the place are quite charming . You can enjoy Floating food streets on this Island. No just this, there are some breathtaking rides and coasters on this island right at the center of Global Village in Dubai. So ! you don't want to make a separate trip to the island to have Island feel because the place which gives the real feels of such wonderings. Don't forget to avail such goodness while you have a chance to visit Dubai.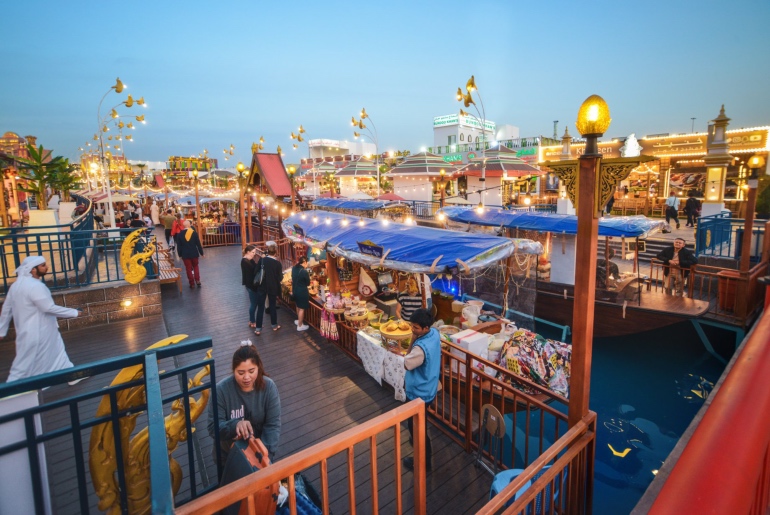 7. Stunt Show : Mission Speed
Stunt shows what you will see in Global Village at Dubai are incomparable to any other stunt shows. They are incredible , stupendous, magnificent, thrilling and more and more. This stunt show is running under the name MISSION SPEED and this name absolutely justify the level of the stunts you will see here. This stunt show will cost 10 AED per person and It will give worth of every single penny spend.
8. Wow! Thrilling Circus
The utmost excitements that you can find from kids to old age people are watching of circus performance. The best-talented professionals from all over the world are present there to entertain you. The performances will make your Jaw drop and feel like standing in a magical world. No special tickets required for these shows. You will see multiple performances in every corner at Global Village in Dubai. Nothing can eliminate such a thrilling experience, so don't forget to enjoy this moment.
9. Magnificent Fireworks
The Global Village in Dubai looks even more beautiful and pleasant during late evenings. The fireworks displayed over the global village will let everyone wow. Such amazing color combinations and lights spread over the sky and which give a festival feel to you. The fireworks will take place every Thursday and Friday at 9 PM. You can also enjoy the videos of Fireworks under the hash tags #GVWOW on Instagram.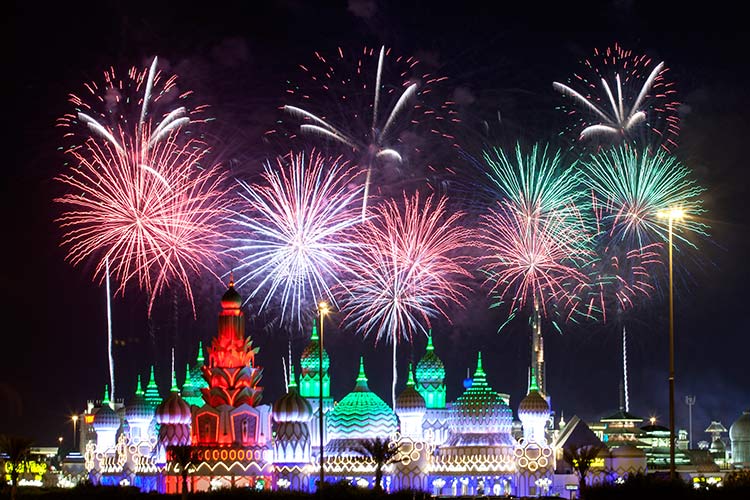 The new year 2022 is going to fall within a few days, right? Then why you don't begin this special occasion over there with the happiest mind. Hope, these things make you feel good and brings some colorful memories and excitement in your life.
10. Wondering Shopping Experience
Last but not the least, Nothing is more memorable and satisfying than doing shopping at a Global village in Dubai! I am pretty sure the things that are showcased at Global Village and in the style they are sell are unique and will never let you with empty hands. You will feel excited to buy such trendy makeup kits, gorgeous outfits.
Not just this, World's Famous Dubai Khajoor's are available in attractive packings and flavours, which you can also gift your loved ones. The collections of everything is overwhelming and could make your day complete without draining your pocket.
Overall, This post is just not enough to explain what else you will see at Global Village in Dubai. And whatever you will experience will get naturally stick to your heart and to your memories. This place is truly a magical place where people come from all over the world to experience this level of fun and activities under one umbrella. There are many others things which are a must do things at Global Village in Dubai which I will be posting soon in my new blog. Till Then, please comment and share your experience about what you felt about this place.
Also, In Dubai there are many more places to explore which cannot be seen anywhere else in this world like The World's largest Mall – The Dubai Mall, Fountain Show at the edge of Burj Khalifa, the Incredibly beautiful and a must visit place – Dubai Miracle Garden and many more.