Be ready to encounter the whole world in one place with Dubai Expo 2020. We are sharing with you the ultimate guide to enjoy in Dubai with family in Dubai Expo 2020.
About Dubai Expo 2020
The Dubai Expo is the very first global expo in Middle East, South Asia and Africa. The expo kicked off on October 1st 2021 with a star-studded inaugural ceremony with 192 countries participating in it. This year, with the theme "Connecting minds, creating the future", the Dubai Expo 2020 will be celebrating human artistry, creativity and mastery bringing together so many countries of the world. The theme of Dubai Expo 2020, addresses the challenges and opportunities which the world will be facing in future.
Some of the countless events which India is hosting at Dubai Expo 2020 include dance and music functions, online workshops, food festivals and much more.
The speciality about Dubai Expo 2020
The speciality of this year's expo is that every participating country will be having its own pavilion. India's pavilion this year will be the centre of attraction for visitors. It spans across the four-storeyed massive buildings, covering an area of around 1 lakh square feet. The pavilion is situated at the sprawling opportunity district in Dubai and is constructed of sandstone with a conspicuous box-like façade. The entire façade is made of 600 individual blocks that make use of kinetic energy and keep on paying tribute to India's journey after 75 years of independence.
India's pavilion has a mainstream theme as 'Openness, Opportunity and Growth'. This mainstream theme is further divided into sub-themes which include topics like health and wellness, urban growth, inclusivity, food, agriculture etc. India is celebrating 75 years of independence and it's the key reason for experiencing the expo this year.
How to get entry to the world's biggest Expo
First of you need to be in Dubai for visiting the Dubai Expo 2020. You can contact the expodubai2020.com website for buying the tickets. You can also get the tickets through authorized tickets resellers (a list of which is available on the expodubai2020.com website).
Unlimited daily access to the expo for the entire month of October is available for a limited period offer. You can avail of this offer at the expo website.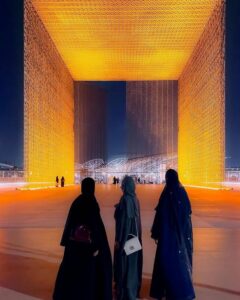 If you want to enjoy yourself with your family you need to buy a family package. The expected expense for getting a family package is around INR 20-21 thousand (subjected to changes). The package includes two adult passes, an extra nanny pass, a discount on food and beverages when eating with family, a discount on multiday passes and other benefits. The complete details of the package are available on the expo website.
What to eat at the expo?
The expo will include a huge variety of cuisines from all over the world. Various countries have different types of street food, Haute cuisines, and unique culinary which you can enjoy with your family. It's a great opportunity for the foodies as they will get an unforgettable experience of eating the world's finest dishes at a single place which would have not been possible otherwise. If you are still sceptical about what to taste, you can download the "eat at expo food guide" which will probably help you in choosing the finest dining experience.
Shopping at Expo
The journey of visiting Dubai Expo 2020 would be incomplete without shopping. A wide range of products will be available here ranging from apparel to keepsakes. Each product will be representing its respective country. Some shopping therapy is a must to complement your expo experience. All major credit cards as payment are accepted at the expo so you don't need to worry about running out of cash.
Undoubtedly this expo will be an unforgettable experience of your life!