Right from the opening of Expo 2020 in Dubai, Al Wasl Plaza had remained a centre of attraction for Dubai visitors. The plaza is home to a magical dome of 67.5 meters tall and 130 meters wide. The dome goes live to display shows via 360-degree laser projections every night to entice the Expo attendees.
Dome at Dubai Expo 2020 Teleports its Audience
Engineers of the Dome included theatrical components into dance performances and music events to teleport the Expo audience to an entirely different dimension. The dome projector at Dubai Expo 2020 highlights a perfect balance between props and augmented reality renders. Besides the event visitors, Al Wasl's dome captivated the audience at home with swirling trees, gushing waterfalls, darting butterflies with a rotating globe.
Al Wasl Dome Never Rests or Sleeps
Programmers and technical engineers command Al Wasl Dome from a dark control room. The room is at enough height to cover the famous Leaning Tower in Pisa. When the event at Expo ends at night, engineers conduct light checks, test projectors, and track the background sound across the Al Wasl dome. When the crew changes the light to red from blue, approximately 30,000 clusters of light in the garden impress viewers with pulsating musical rhythm.
According to William Ainley, the Technical Vice President for Expo, "Every night, Al Wasl dome comes alive to make midnight hours precious for us. The dome lets us run our rehearsals, shows, maintenance, and others when event organizers close the park at night. With the help of night dome only, our team successfully dives to set up the stage for the upcoming day."
Mechanism of the Magical Dome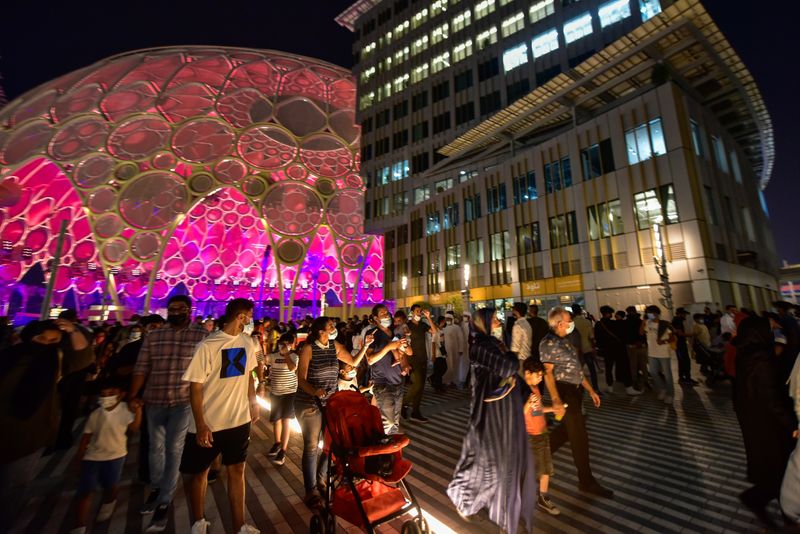 The magical dome at Dubai Expo 2020 features a trellis design. Accordingly, it can easily hold projection screen materials tightly between the lattice structures. Other than that, about two hundred and fifty laser projectors work for splashing images on its surface.
You may view laser shows both inside and outside the Al Wasl Plaza dome.
Organizers of Al Wasl always splash its giant 360-degree dome with stunning colours and maintain its phase with the best musicians of the world. Animators and engineers pull back their covers to deliver visual effects right from the trellis.
Excluding this, the last leg involved in the construction of the dome required utmost precision in terms of geometry. In particular, efforts are required to crow and lift the massive trellis framework. The structure thus required the expertise of approximately 800 engineers and 14 months of intensive plan to come up with final addition to Expo 2020's jewel.
Expert Comment from the Director of Expo 2020 Ceremonies
According to Amma Abulhoul, "Every jewel in this world has a story and for the Expo 2020 dome, we have created the entire Al Wasl programming. Converting a structural space into a venue for the opening and closing ceremonies was a challenging task. Hence, we have started the process for four years. Our experts have always thought and aimed to make a breathable venue by incorporating the latest technology we possess. Simultaneously, we succeeded to deliver our messages through many dance performances, music, and stage shows. We are damn sure that the closing ceremony of Dubai Expo 2020 will be more mesmerizing and memorable for our global visitors."