Skydiving is a thrilling type of sports activity, where skydivers soar to a high altitude in an airplane. Later, divers jump out in the open sky for freefall while performing a few of the acrobatic stunts. Because of this, the activity falls under the category of adventurous sports.
You may experience Sky diving in Dubai in the best way in the Arabian City. In this blog post, VisaDekho would be sharing all the essential details related to the skydiving activity in Dubai. And will make you ready to explore this exciting event at the earliest.
Types of Dubai Skydiving
Are you a newbie and bothering too much about the safety of your skydiving activity? Don't worry, as Depending on the adventure level; you may choose either of the two different types of Dubai skydiving activities.
1. Indoor Skydiving –iFLY Dubai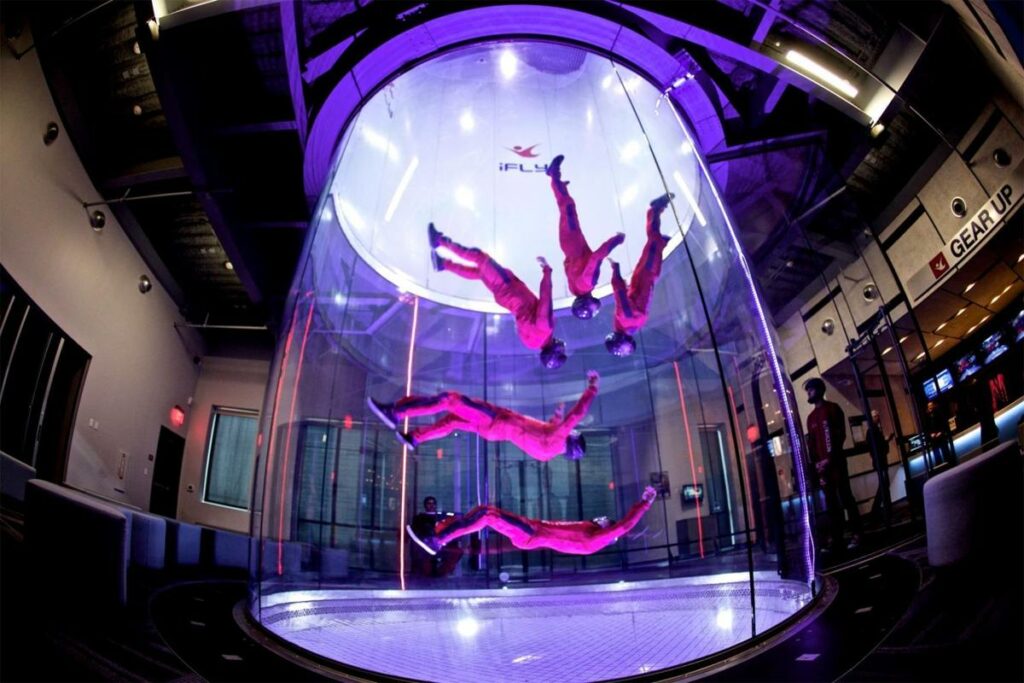 If you are a little afraid or a 1st-time explorer of Skydiving, Indoor Skydiving in Dubai is a solution to your afraidness.
Indoor Sky Diving in Dubai is available under the name iFLY Dubai which offers you not just the experience, but the safety which matters the most for every individual. !! Indoor Skydiving does not contain any natural element. The activity involves the simulation of freefall conditions within a vertical wind tunnel. Indoor Skydiving is preferable among first-timers who want to get experience by maintaining the highest possible safety practices. Check Out the video shared by iFLY Official group to know more.
2. Outdoor Sky Diving in Dubai
The story of SkyDiving does not ends at Indoor Diving. It just give you the enthusiasm and jeel to experience the Outdoor SkyDiving.
This Outdoor Skydiving in Dubai should be your real target and this experience in incomparable with anything else in the world. Accordingly, you have to take a flight at about 13,000 feet and jump by using a parachute strapped at your back.
We at VisaDekho will provide you every minute detail you should know before enrolling yourself for this
Total Duration of the Sky Diving in Dubai
This amazing skydiving journey will take approximately 20 to 30 minutes. This total time will consist of – FreeFall of approx 60 seconds. Not just this, you will be amazed to know that the falling speed will be around 120 miles per hour.
However, before you start the activity, experts will give a brief session about how to communicate when you'll be flying. Not just this, What are the postures you will make in the air during the drive. It will be like a quick training which will be of about 30 minutes. This session is not just essential but mandatory for everyone to understand the basic things related to Skydiving.
Places to Perform Sky Diving in Dubai
You may experience Skydiving in Dubai in two different drop zones, which are-
1. Desert Campus Drop Zone
Do you want to take a break from the chaotic life of Dubai City? If yes, you must choose to perform Skydiving in Desert Campus Zone. Here, you have a thrilling experience in the calm and unexplored area of the Arabian City. During your aerial tour, you may catch many breathtaking sights of the iconic sand dunes belonging to the Dubai desert region. The cost involved in Skydiving across Desert Campus Drop Zone is Rs 29,000 INR.
To know about any curent offers and pricing, refer SkyDive Dubai Offiical Website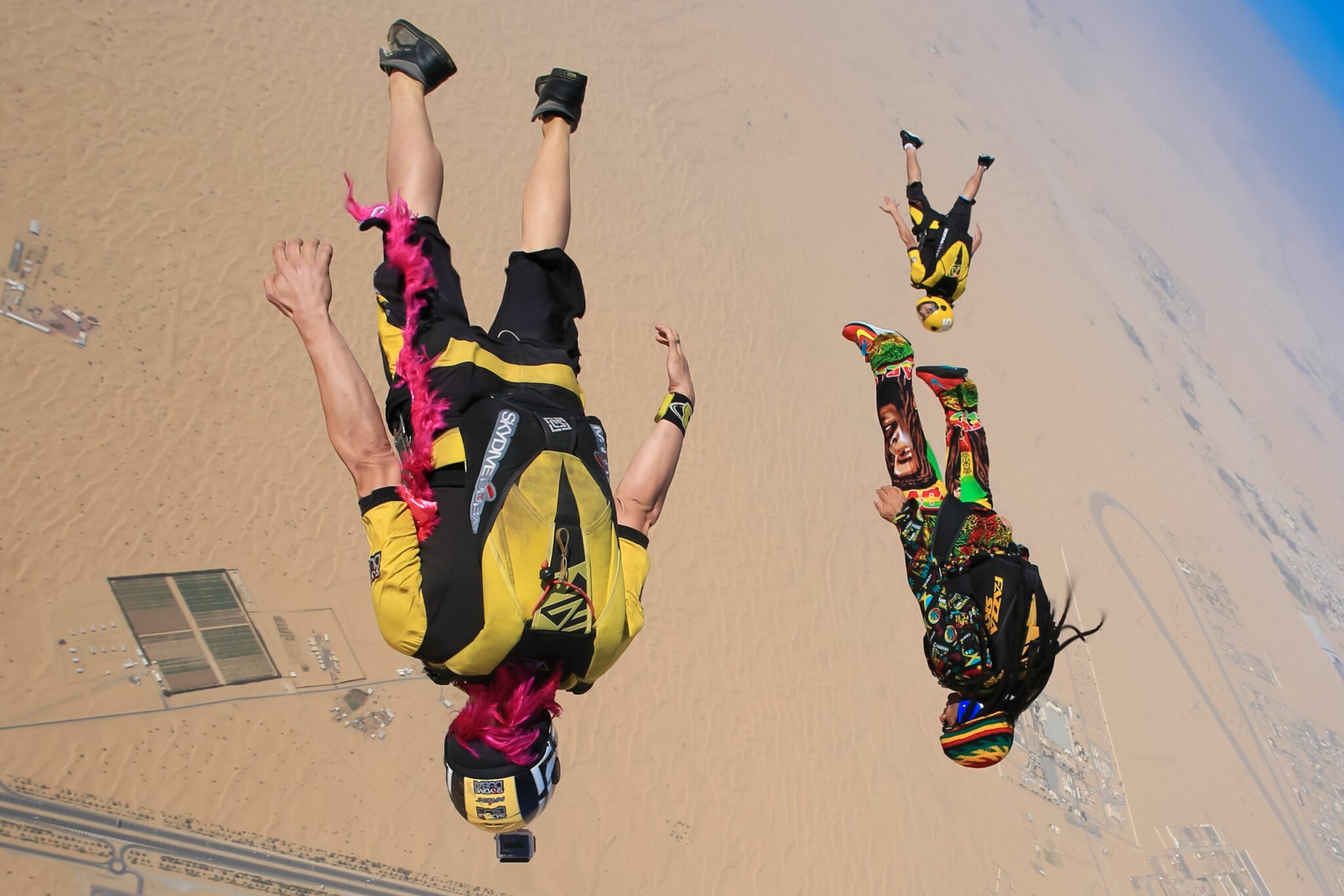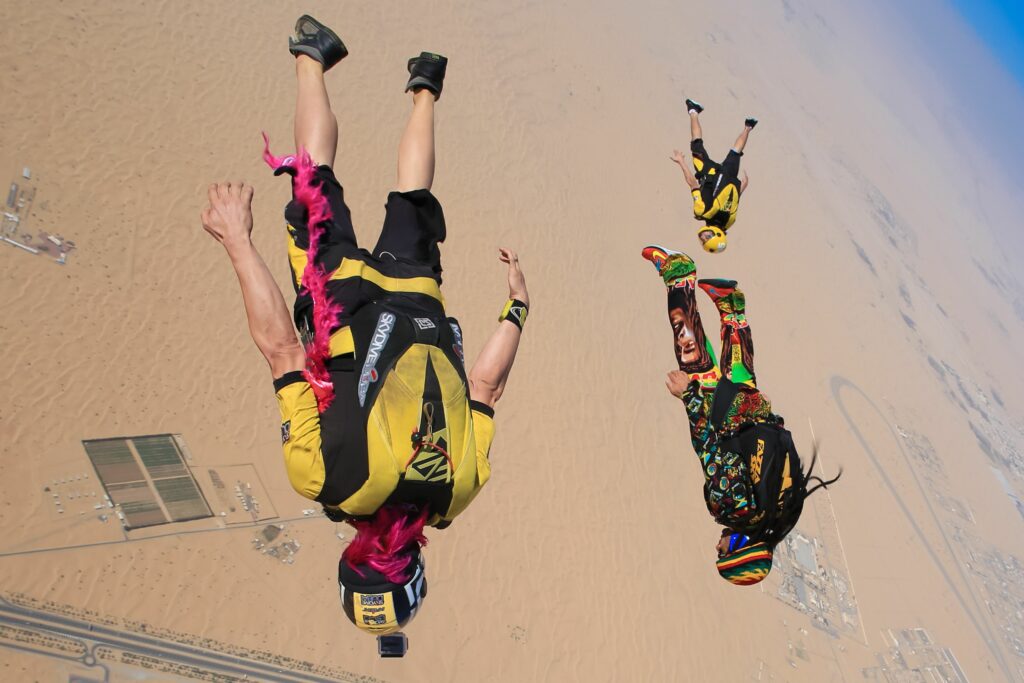 2. Palm Island Drop Zone
The Second place and my favourite place for Skydiving is the Palm Island Zone of Dubai. It will give you a surreal and premium experience which you cannot have anywhere else. Skydivers may experience various exquisite sights and mesmerizing skyline of the appealing Palm Island in Dubai City. During the entire course of your skydiving activity in Palm Island, you may witness various worldwide famous structures of the region. These include Atlantis Hotel, Ain Dubai, Dubai Marina, and Burj Al Arab.
You can check best deals and book a Ain Dubai Tickets at attractive price from Mala Tours.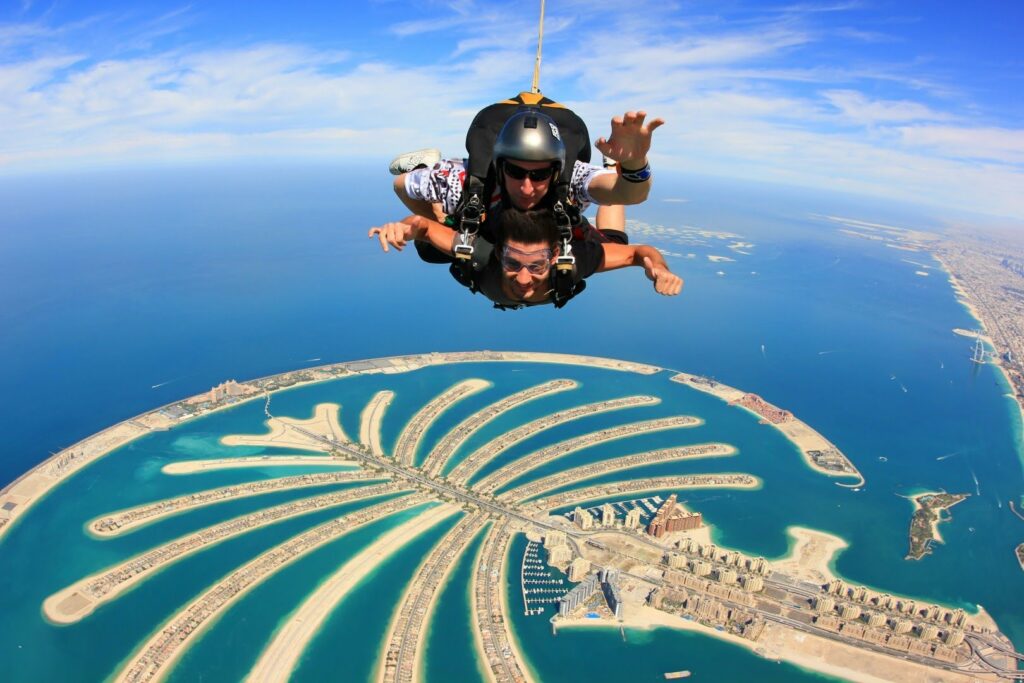 Types of Jumps Involved in Skydiving Activity
1. Tandem Jump
If you are doing Skydiving for the first time, you must attempt a tandem jump. This type of jump gives you the thrill related to free fall but under the guidance of instructors. To start, instructors will tie you securely by using a harness. Your instructor will guide you during the complete jump i.e. from your exit to free fall, canopy piloting, and landing.
Checkout the Complete journey of lady experiencing Tandem Jump at Sky Diving in Dubai
2. Static Line Jump
If you want to perform a solo jump in your first Skydiving, you must consider Static Line Jump. Accordingly, skydivers will experience free fall for a short time and before the main parachute opens. Once the driver jumps out from his/her airplane, a static line of the aircraft will initiate the main canopy deployment. You have to undergo both ground training and technical training for one full day to attempt a static line jump for the first time.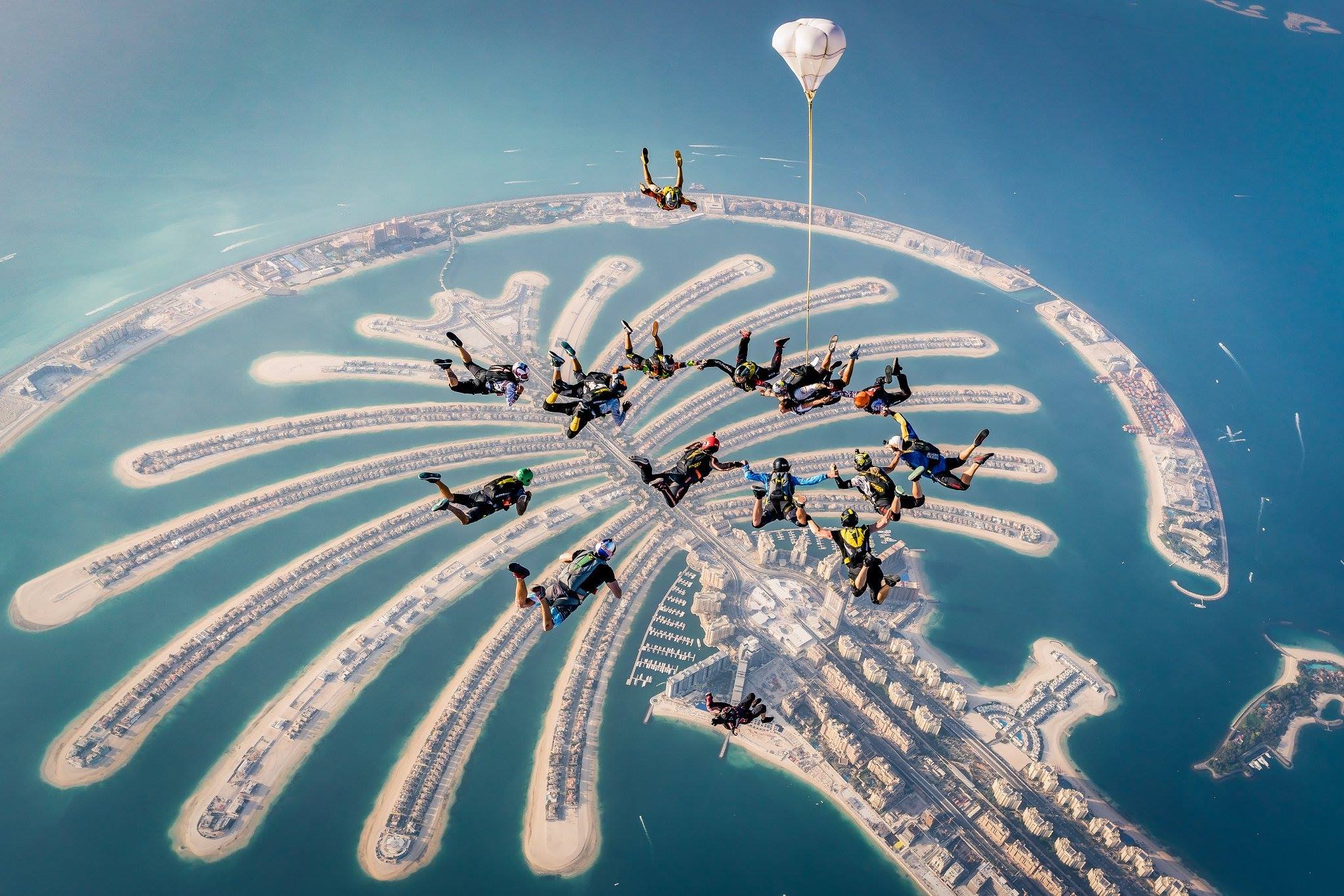 3. Accelerated Free Fall
Individuals who want to get a real deal from Skydiving in Dubai choose AFF. AFF is the acronym for Accelerated Free Fall. This type of jump lets you experience a free fall of 50 seconds in your first jump. In the case of AFF, two instructors will work simultaneously to teach the actual method.
One instructor will hold the diver until he or she deploys the parachute successfully and release it again. After the diver opens his/her parachute, the second instructor, i.e., ground instructor, will guide you verbally by using a radio mounted on the helmet of the diver.
Things to Know to Perform Skydiving Activity in Dubai
You must be at least 18 years of age to participate in skydiving activities.
You must weigh less than 100kg to meet the safety reasons.
You have to sign a liability waiver form, which lists the risks involved in the sky diving process.
If you have back, neck, or shoulder problems, you must stay away from Skydiving.
Your success rate related to Skydiving depends on the underlying weather condition. Hence, bad weather will lengthen the hours of your activity. In contrast, you have to spend only three hours on any suitable day to get a complete diving experience.
Overall Experience in the Adventure
Therefore, skydivers will witness a large number of spectacular views of various panoramic vistas and fall freely on the desert area or the Palm Island. Regardless of your selected zone, you will get an unforgettable experience during the complete course of your Dubai skydiving activities. We have also created a 10 seconds Quick Overview about Sky Diving in Dubai. Check Now !
Also, If you are planning to visit Dubai to explore this Adventure, I would also suggest you look at Wingsuit Dubai. Wingsuit Dubai is again an adventure activity to perform. And as both the sports can be experienced in Dubai, you must not lose this opportunity.
There are several more interesting things to do at Dubai. Out of which Dubai Expo 2020 should be at your hit list if planning to visit in 2021. Other than Dubai Expo 2021, you should also add The World's largest Mall – The Dubai Mall in your checkout list, Fountain Show at the edge of Burj Khalifa, the Incredibly beautiful .Also, If you are a Nature lover then – Dubai Miracle Garden is a right place for you as it is the world's largest garden. Or you can take a quick glance of what you can explore at VisaDekho.