Let's discuss the facts about Travelling from India to Dubai!
The craze for Dubai Expo 2020 is at its peak these days, amongst the visitors as well the locals. For Indians, it's a great opportunity to be a part of the celebration of 75 years of India's independence. Those who are lucky enough will get a chance to be a part of the celebration and also further explore Dubai. After enjoying a global taste from every part of the world in one place, it would be a great idea to further explore various sights, tastes, sounds and excitement of the UAE region. Here we are going to discuss all the tips for your Travelling from India to Dubai.
Travelling from India to Dubai
If you are planning a trip and travelling from India to Dubai for the Expo 2020 and to explore other tourist attractions, you can apply for a 14 days service Visa which may cost 120 AED (subjected to changes). This visa can be extended up to 28 days for 250 AED (subject to variation). You can also apply 'Tourist Visa' with 30 days validity or a 'Visit Visa' with 90 days validity. If you have friends or relatives already staying in Dubai, they can apply for a visa on your behalf subject to guidelines.
There are lots of other ways which can be followed to apply for a visa while you are travelling from India to Dubai; the most popular ones have been discussed above.
Once you enter Dubai, you will need to jump onto the Dubai Metro for moving across the city. The Metro's Red line runs across the arterial Sheikh Zayed Road and extends all the way to Jebel Ali. All the public transportation of Dubai like the tram, Metro, taxis, buses, etc. can be easily accessed with a purchase of a prepaid NOL card. If you wish to go in the open air, you can rent e-scooters and bicycles for moving across the city. Wheelchair-enabled taxis are also available for needy people so that 'people of determination' too can enjoy their trip easily.
Exploring Dubai
Out of the seven emirates to choose from, exploring Dubai would be the best option. Let's find out what this beautiful city has got to offer for your Travelling from India to Dubai.
Dubai is a well-known city with its impressive beaches, stunning skyscrapers, water parks, retail therapy, mouth-watering cuisines and every enjoyment one could think of. You can take a metro, a taxi or a bus for moving across the city and to reach your destination. If you have spare energy, you can even take a bicycle for moving around in Dubai. Wouldn't that be fun? Just imagine cycling on the roads of Dubai or racing on a bicycle with your loved ones to reach your dream destination!
Dubai Marina
Once you are Travelling from India to Dubai and If you are attending the Dubai Expo 2020 and you wish to move a bit far off, then Dubai Marina is just around 20-25 minutes away. Situated around the Gulf shoreline in the South of Dubai's Palm Island, it's a waterfront communal packed with skyscrapers. It's one of Dubai's swishiest residential and leisure spots. In the centre is situated a 3-kilometre-wide waterway framed by hotels, restaurants, shops, residential flats and entertainment centres. It would be a great place to visit and relax after a tiring expedition to the Dubai Expo 2020.
Burj Khalifa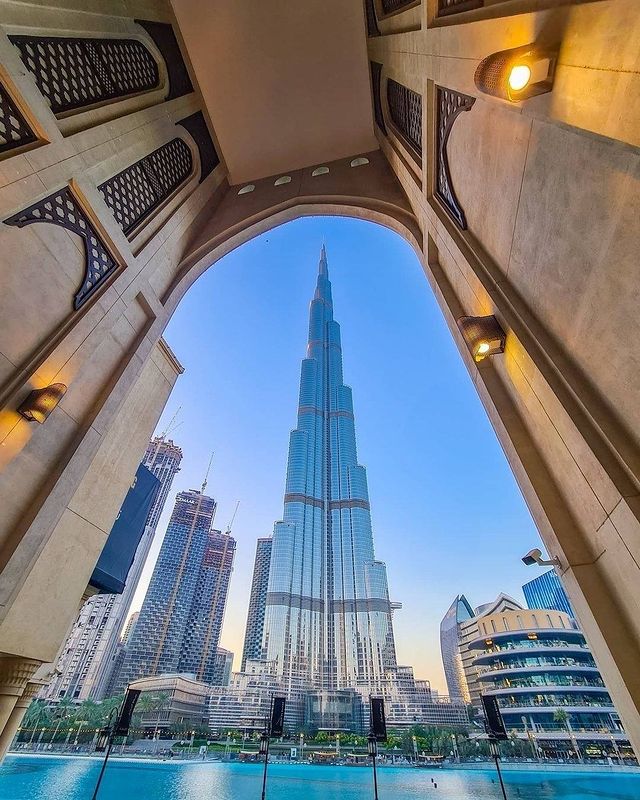 We all have heard about Dubai Burj Khalifa; the tallest skyscraper in the world with 163 floors and a must-visit tourist attraction. It was inaugurated in 2010 and is now open for the public to see. It is so tall that we can see the horizon of the earth from its top floor. Wouldn't you like to be at the top of the building and get a lifetime experience? Certainly yes!
Dubai Gold Souk Market
The world's finest variety of gold jewellery is available at the DubaiGold Souk market, situated at Dubai's commercial business district in Deira in the Al Dhagaya locality. Dubai's Gold Souk is a traditional market and a home for 380 retailers, most of them having jewellery shops. Even if you don't buy gold ornaments, it's a must-visit place at least once.
The Dubai Mall, The Palm Jumeirah, Global Village in Dubai, Miracle Garden are also some important tourist attractions, which should not be missed if you ever visit Dubai.
This year it's a golden opportunity to be in the world's biggest expo and also explore one of the most happening cities of the world. So what are you waiting for, book your tickets now for Travelling from India to Dubai!