Planning a Paris trip, Let's checkout the details plan for your wonderful trip.
Paris, the capital of France, the city of the iconic Notre Dame Cathedral, and the city of lights lie on the bucket list of almost every traveler who wants to explore the best places of this world. It is for many good reasons that people want to have a Paris vacation at least once in their lifetime! Paris is also the global fashion capital crammed with art, culture, and history. It is a cosmopolitan city offering a lot of things to explore for every age group. From renowned art & craft museums and galleries; to tasteful delicacies and drinks; there will be numerous memories to cherish and remember after your Paris trip.
No doubt, the Eiffel tower is the most well-known spot, which is associated with Paris trip, but it has a lot more to offer for tourists. There are many other spots and destinations in Paris, which are a must-visit if you are here (apart from the Eiffel tower).
We have listed a few of them. Let us find out which all destinations are must-visit spots during your Paris Vacation.
The most amazing and must-see destinations in Paris trip
Arc de Triomphe
Paris is full of historic spots, including the 'Arc de Triomphe' situated at the West end of the Champs-Elysees. This historic site is dedicated to soldiers who fought in the French Revolution and the Napoleonic Wars. The names of all the generals and the victorious are engraved on the surface of Arc de Triomphe making it worth watching and exploring. The Champs-Elysees itself is a sight worth exploring because it's a 1.2-mile-long track for countless cafes and eateries for those hunger pangs which occur while traveling. It is also a spot for the yearly 'Bastille Day Military Parade' and the endpoint of the 'Tour de France'.
Louvre Museum -The most impressive art exhibition
Another must-visit spot in Paris is the 'Louvre Museum' situated at the banks of the Seine River. If you are an art lover or even if you aren't, this place should not be missed during your Paris trip. You would find here the most magnificent, baroque-style artifacts and antiques. It certainly has the most impressive art exhibition that cannot be found anywhere else globally. It is a perfect place for an afternoon stroll.
If you wish to visit more museums for art, the Centre Pompidou is another option. It has a big public library and the biggest museum in Europe for exploring modern art.
Louvre Pyramid
Amongst the numerous places in Paris to visit and admire during your Paris trip, Louvre Pyramid is one. This artificial pyramid was designed by architect I.M Pei and is constructed of glass and metal. It serves as the main entrance route to the Louvre Museum. So, if you visit the Louvre Museum, you got to go through the Louvre pyramid.
Explore Le Marais & Eat Pastries on Rue Royale
If you want to visit a serene and peaceful place during your Paris vacation or just want to spend some leisure time, Le Marias is the ideal location. This place is constructed like a winding maze and is known for its classic libraries and hidden parks. Due to its unique winding maze-like architecture, you have numerous areas to discover and explore once you get inside. After hours of wandering and exploring Le Marais, you will develop those hunger pangs, you can have delicious pastries at the Laduree on Rue Royale. Each day around 15,000 pastries are sold over here, so we can imagine how popular and delicious they must be.
Enjoy "Bloody Mary" at its native place
Very few people are aware that the cocktail 'Bloody Mary' was invented in Paris, and that too at a particular spot known as Harry's New York Bar. This bar used to be a favorite hangout spot of F. Scott Fitzgerald and Ernest Hemingway during the 1920s. Harry's New York Bar still exists today and is a perfect place with a blend of history and ambiance to spend a night out in during your Paris trip.
Shop at the fashionable streets of Rue Du Faubourg Saint-Honoré
Your Paris vacation would go boring if you don't shop here! If want to update your wardrobe with trendy outfits, you got to visit the Rue Du Faubourg Saint-Honoré fashion street in Paris. This street is lined up with numerous fashion houses and is considered the trendiest fashion street in the world.
Palace of Versailles- A must-visit spot in your Paris trip
The Palace of Versailles is a place to behold for those who want to know about the history of the city. With its rich history and impressive architecture, the Palace of Versailles is a UNESCO World Heritage spot. It is also known as the house of Hall of Mirrors. This palace used to be the home for French royalty from 1682 to 1789, and also the major center of the French Revolution. If you ever go on a Paris trip, it is a must-visit spot.
Île Saint-Louis
If you want to take a break from the hustle and bustle of traveling and wandering in Paris, the Île Saint-Louis is the ideal place. It is a cobble-stone and peaceful vicinity, popular for its shops, cafes, bakeries, and bistros. We recommend you come here and enjoy a calm evening because this area is peaceful and unique.
Place Des Vosges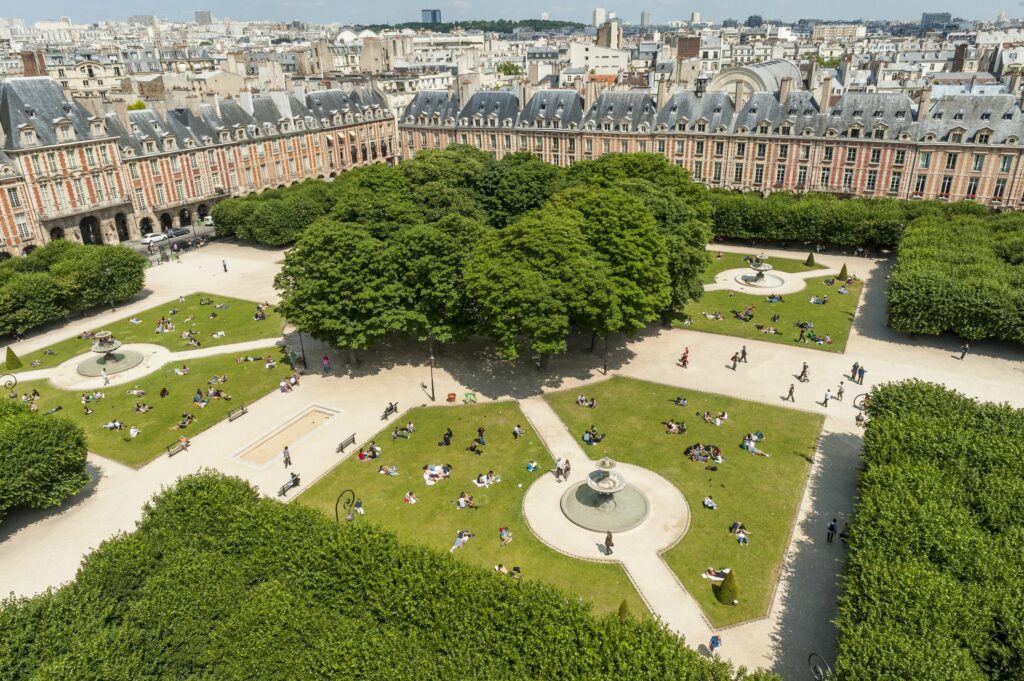 If you are a nature lover and want to spend time within greenery, come to Place Des Vosges. It is the oldest public square of Paris with a beautiful central park enclosed within scenic townhomes of the 17th century. If you were a part of Parisian nobility, then, this was the place to be.
Nightlife In Paris
How can anyone come for a Paris trip and does not enjoy the nightlife here? Well, your trip would be incomplete, if you didn't visit the Moulin Rouge Cabaret show. The show is performed inside a windmill of the 19th century. After the show, you can head up to the Pigalle for some fun which lies at the foot of Montmartre Hill.
These were just a few places to explore Paris trip has much more to offer!