The cricket stadium in Dubai also known as Dubai Sports City Cricket Stadium is among the three sports stadiums in UAE. The other two stadiums are Sharjah Cricket Stadium and Sheikh Zayed Cricket Stadium. Both these stadiums are in Abu Dhabi in UAE.
The cricket stadium in Dubai is the only multi-purpose stadium in the entire UAE. Mainly, the stadium is for cricket matches. The maximum capacity of this stadium is more than twenty-five thousand spectators. it can be extended to a maximum of thirty thousand spectators.
Stadium Architecture of Cricket Stadium in Dubai
The stadium is a part of the broad Dubai Sports City in Dubai. Assam Marlin, (a famous Canadian architect) designed the beautiful architecture of the stadium. In the year 2009, the construction of the stadium was complete.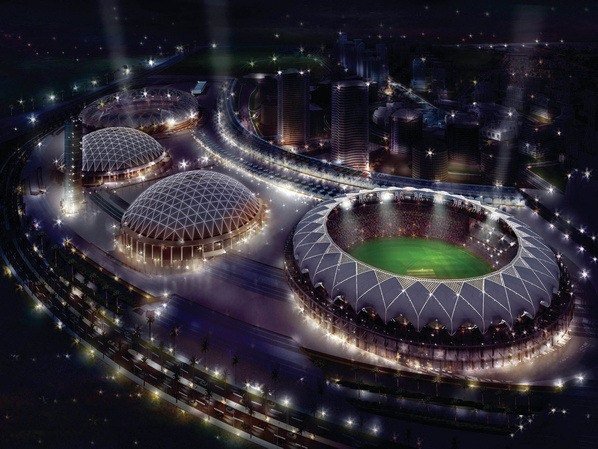 The stadium is designed in the best way, this is the interesting aspect of its architecture. The audience seating in every corner can enjoy the game to its fullest with clear visibility of every event.
Significance Of Cricket Stadium in Dubai
Some of the prominent significance of cricket stadium in Dubai are as follows:
The stadium first witnessed its international test match in the year 2010 on the 12th of November. South Africa & Pakistan played the match in the stadium. The interesting fact of this match is that the result of this match was a draw.
The cricket stadium of Dubai first witnessed its ODI cricket match in the year 2009, on the 22nd of April. Pakistan and Australia played the match and Pakistan won the match. This is not the end, as after this match Shahid Afridi who is a very talented cricket player look at his five-wicket haul.
Further, the stadium has also witnessed and hosted Indian Premium Ledge (IPL) in the year 2014.
Another interesting fact is that the stadium has also hosted PSL (Pakistan Super League) for four consecutive years starting from the year 2016 till 2019. This is incredible.
Other than test matches, ODI matches, Indian Premium Ledge, and Pakistan Super League, the cricket stadium in Dubai has witnessed a Qualifier tournament for T20 World Cup matches for the year 2019.
Lighting System of Cricket Stadium in Dubai
The lighting system of the stadium in Dubai is special because it has a system of floodlights. The stadium has a unique Ring of Fire lighting pattern. The round roof of the stadium is fitted with three hundred and fifty floodlights around the circumference.
This minimizes the shadow of all the objects present on the ground. Surprisingly there are no light lowers in The Dubai stadium.
Conclusion
Dubai authorities governed this cricket stadium. They take a proper look into the maintenance of the stadium. People visiting this stadium first enjoy the look and feel of the cricket stadium, which indeed enhances the overall experience of watching matches.
To date, this stadium has witnessed and hosted several international cricket matches but because of excellent maintained look wise, it seems as if it recently inaugurated.