Dubai International Airport is the largest and the most important airport in the UAE, serving as a gateway to the Middle East. It is also a crucial economic hub for the country and being one of the most popular travel destinations globally. This airport offers some of the best services of Dubai Duty Free in the Middle East, with some of the most stylish and stocked shops, along with a sizeable selection of ready-to-eat and grocery products. The staffs really know their stuff and offer a wide range of services, not to mention the various lounges where you can unwind in the midst of some of the most magnificent scenery in the region.
Cigarettes
Everyone needs some retail therapy. Whether you're looking for a weekend indulgence or an anniversary present, you can shop tax-free at the Dubai Duty Free. It has a well-rounded selection of cigarettes. If you want to relax with the most prestigious cigarette brands, look for stores by gates D and the first level of the departure terminal. For customers who wish to budget cigarettes, stores on the lower level by the C Gates sell the best brands. The pack of 200 Gauloises Blondes Filter cigarettes costs about 12 USD, the box of 200 Camel Filter cigarettes costs 28 USD.
Cigars
The Dubai Duty-Free stores sell a wide range of imported cigars from countries like Honduras, the United States, and other parts of the world. Should you decide on a pack of King Edward Special Tip Cigarillos, you'll only have to pay roughly 50 USD.
Local delicacies
You can find plenty of excellent restaurants at the Dubai Airport, accredited mainly by international organizations. The food courts offer healthy food options and quick and healthy snack options for travelers who do not wish to deprive themselves of any pleasures during their travels. From delicious olives to seafood, if you're looking for a gourmet meal on your way to your next adventure, head over to Ocean Basket. To top it, have a taste of Dubai Duty Free's dried dates, an essential fruit in Middle Eastern cuisine.
Liquor
Liquor can be found in several Dubai Duty Free stores conveniently located at the arrival and departure gates. If you're a collector of exquisite alcoholic beverages, then Le Clos is your top choice for shopping at Dubai Airport. This establishment combines all the expertise of one of the most trusted liquor shops in town with its many exciting additions. If you decide to part with your money at Le Clos, you'll find something for every type of drinker — regardless if you're a whisky aficionado, a cognac lover, or an expert of champagne and wines. With Le Clos, you get access to both elite boutique mixology and carefully curated private collections of various brands.
Perfumes
Dubai Duty Free's huge perfume selection makes it the perfect place to shop for fragrances of all kinds. Whether you're looking for a new signature fragrance or trying to find that perfect gift for a loved one, the duty-free has something for you. If you are looking for a particular perfume, the duty-free stocks a wide variety from big brands like Chanel, Dolce Gabbana, Elizabeth Arden, Escada, Giorgio Armani, Hugo Boss, and Calvin Klein, among others. Expect to pay anywhere between 100 AED (30 USD) for a perfume and 400 AED (110 USD) for others. You can take your time, try out several sample fragrances, and decide what to purchase before heading off. 
Chocolates
Dubai Duty-Free offers a wide selection of chocolates from Arabic and Western brands. The stores are filled with delectable goodness, and especially chocolate. In the Duty-Free shopping area of Terminal 3 at Dubai International Airport, chocolate addicts can rejoice in the presence of giant Toblerone bars, boxes of Cadbury Dairy Milk, and packets of M&Ms. Even if you're traveling with other people, take advantage of the group discount and share some M&M-filled moments together while going through UAE customs. Whether you're sampling your way through Accra Chocolate or deciding between Ferrero Rocher and Kinder Bueno at the Friandises de Chocolat kiosk, there are plenty of treats to be had.
Makeup
Enter Dubai International Airport (DXB), and you're greeted by the familiar sight of a MAC store nestled in the Arrivals Hall. It's positioned perfectly to catch the attention of passengers making their way out from duty-free, while others rush past to catch a flight. This makes it the perfect spot for anyone arriving or leaving DXB to pick up one of the world-renowned cosmetic company's fantastic products, whether it's your first time with the brand or you're a loyal customer. The airport store stocks everything: from foundation and mascara to lipstick and cleansers and is open every day.
Dryfruits
Dried fruits are healthy, with a light taste that fits well with travel. Depending on your tastes and preferences, you can choose from a wide variety of nuts, raisins, cashews, mixed nuts, dates, and figs. If you're looking for a tasty treat to take home, stop by the Dubai Duty-Free and choose from a variety of snacks that will satisfy any sweet tooth. The Puranmal is just one of the hundreds of products available at the store.
Tips on saving money at Dubai duty-free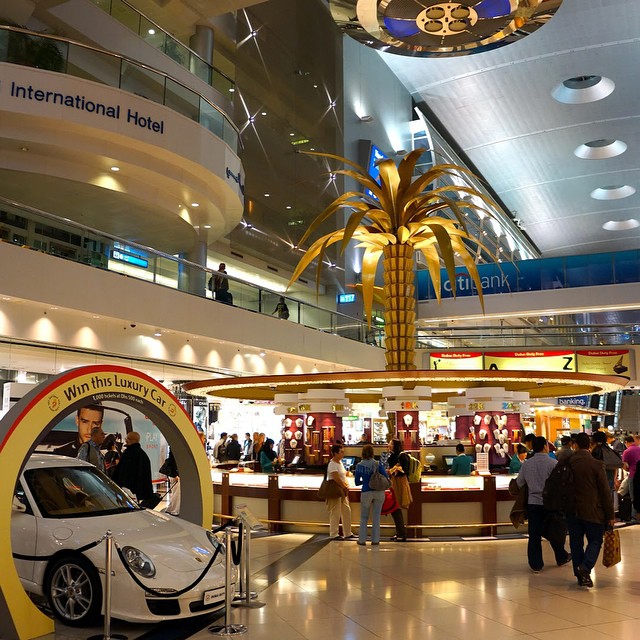 Being able to buy things like fine liquor, cigarettes, perfumes, and other similar high-quality items at half the street price is a pretty good deal. But most people do not understand how to shop effectively at a Dubai Duty-Free shop. So here are some tips to save you a buck:
Be sure to check the item's price at your local store before buying it from a Dubai Duty-Free shop.
Some Dubai duty-free stores have promotional packs, where you can get one extra item for every two you buy. Look for pack deals on shopping at Dubai duty-free. 
It's essential to know the limits before buying alcohol and cigarettes at a duty-free store. Each airport sets its own limit on how much alcohol you can bring back through customs.
Duty-Free shopping is popular among passengers looking for bargains on high-end cosmetics, alcohol, and other goods. However, this shopping experience isn't reserved only for wealthy travelers, and it is open to tourists visiting Dubai for the first time. The sheer abundance of different shops, themes, products, and services in the airport makes it easy to get lost in its crowds. Dubai duty-free has various products to suit every taste, from the popular expatriate shops and designers to specialty goods and food markets. And that is why you should consider Dubai as an option for holidays for your next trip.