Dubai is an exciting vacation destination, filled with unmatched and unlimited options for leisure time. A rich array of events and programs are always lined across Dubai hotels for visitors to watch and enjoy. There is no better time than now to get away from the hustle and bustle of your life. Now is the time to escape the boredom of your everyday life and enjoy your vacation in Dubai. Now is the time to get near to both excitement and tranquillity, time to get away to Dubai.
Visting Dubai and spending leisure time here gets better if you find the perfect accommodation. Just imagine, after a long day of enjoyment and wandering, you don't get a perfect place to rest and stay; your whole trip will just go to waste, so it is necessary to find the right Dubai Hotel as accommodation.
In Dubai, there's a long list of hotels and resorts, that you can choose for staying. We have handpicked the best Dubai hotels to make your search easier.
Gevora Dubai Hotel
We've chosen this hotel and included it in our list of best hotels because it is special. Hotel Gevora is not just the tallest hotel in Dubai but the world, making it a special hotel. So, if you ever come to Dubai and stay in this hotel you can boast that you've stayed in the tallest hotel in the world. When it comes to services and facilities offered by the hotel, there isn't any service that the hotel Gevora does not have. It remains highly in demand and is booked by many people every day. The hotel follows it's all the safety and hygiene measures that are required nowadays.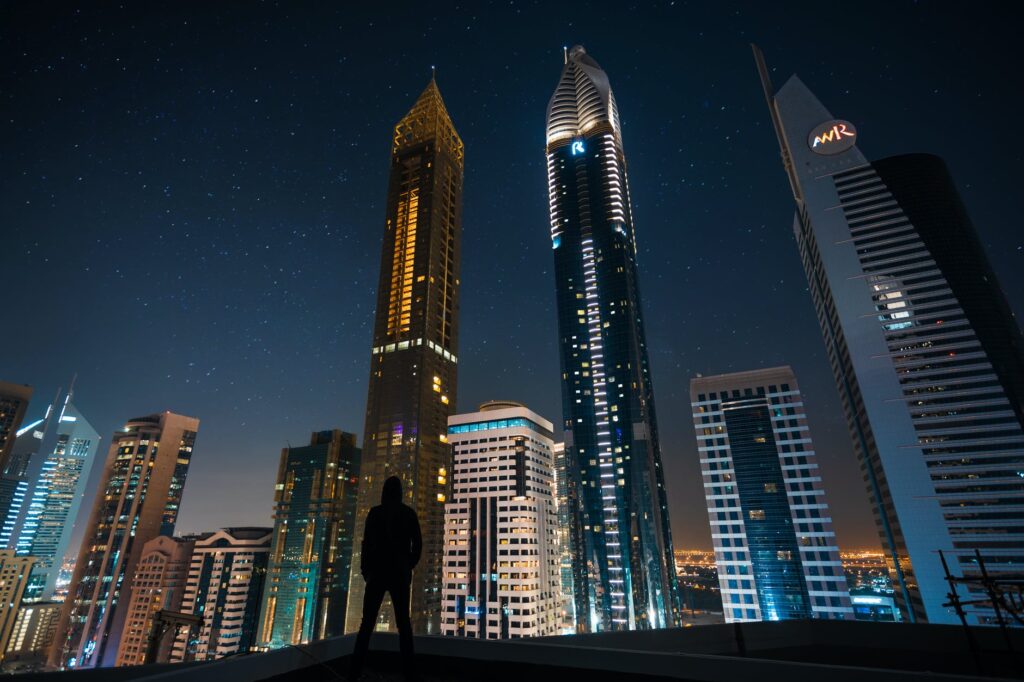 The hotel Gevora is very close to public transportation and offers airport transfer, shuttle service, valet parking, and currency exchange for its guests.
When you are in your room, you get a king-sized bed, luggage storage, hot shower bathtub, television, free wi-fi, 24 hours room, and front-desk services. The deluxe rooms will also offer a balcony or terrace and a city view.
The hotel also has a free fitness center, swimming pool, access to clean drinking water, tea, coffee, etc. You will have to spend around 55K per night to stay in Hotel Gevora. You can avail of huge discounts in the hotel pricing if they are booked earlier or on certain days having discounts and offers.
Hotel Taj Dubai
The Hotel Taj Dubai is included in the list of our hotels because it is luxurious and a brand name. This Dubai hotel is located in Downtown Dubai, very near to the Emaar square, Dubai Fountain and Burj Khalifa. Other hot destinations of Dubai like the Dubai Aquarium, Dubai Mall, underwater zoo, are also within 3 km range. The Business Bay Station is just 14-15 minutes by walk.
The Hotel Taj Dubai offers different kinds of rooms which include: Luxury rooms with city views, Luxury rooms with Burj View, and other rooms with city views. The pricing depends on the number of beds inside the room. You will have to spend an averagely of around 30K INR to stay in Hotel Taj in the Luxury room with two king-size beds. 2 kids and 2 adults can easily accommodate in the luxury room.
The hotel Taj offers the following services: Outdoor pool, Spa, Fitness & wellness center, restaurant & bar, coffee shop, 24 hours room services, 24 hours front desk service, and free wi-fi.
Overall, the Hotel Taj lives up to its brand name and never disappoints its guests.
The Oberoi Dubai Hotel
The glamour of Dubai will be completed with the sincere hospitality of the Oberoi Hotel. Keep your family close to you in the highly spacious rooms with twin king beds and enjoy the cityscape view of Dubai. You can select the room according to your choice, offering Burj Khalifa view, pool view, city view, and enjoy your stay. Two- and three-bedrooms economic suites are also available for families with Burj Khalifa views. 
Each room of this Dubai Hotel is highly spacious and equipped with large bathrooms. The bathroom has full-length enamel bathtubs, a fitted head shower, a distinct shower cubicle with vari pressure, and cotton towels and bathrobes for every guest. The toilet essentials are present in every bathroom and a hair dryer is also available. You will have to spend 1veragely 1000-1500 AED for one night stay in Oberoi hotel.
Every room of the hotel offers air conditioning with temperature control units in the room, an electronic safe for valuable items, high-speed internet, a 42" LCD television, and a 24-hour in-room dining service. The hotel also offers a fully stocked personal bar, pillow menu according to need and preferences, fresh fruits, daily newspaper, and everything which you can think falls under luxury staying.
Habtoor Palace Dubai
The Habtoor Palace Dubai and LXR Hotels & Resorts will provide you with a royal experience, none less than staying in a palace. The extensive gardens and three dazzling pools in its province are just the beginning. This Dubai hotel offers butler service for every visitor, fine dining, and access to the canal, helipad, and Sheikh Zayed Road.
The Habtoor Palace Dubai boasts its 52 opulent suites. Choose the customized Bentley Suite or Sir Winston Churchill Suite, the only of their kind in the entire Middle East. Every suite of the hotel offers air conditioning with temperature control units in the room, an electronic safe for valuable items, high-speed internet, television, and 24-hour fine dining service.
You will have to averagely spend AED 1500 for one night stay in the basic Deluxe room which is up to AED 33K for the Sir Winston Churchill Suite.
JW Marriott Marquis Dubai Hotel
Escape to one of the most luxurious stays in the heart of Dubai's downtown at the JW Marriott Marquis Hotel. Spiraling above the Sheikh Zayed Road, this 5-star Dubai hotel is one of the tallest ones, boasting the awe-inspiring views of beaches and cityscape of Dubai. It has modern, luxurious, and award-winning service.
The JW Marriott Marquis Hotel Dubai has more than 1000 rooms and suites, a swimming pool, a fitness center, a spa, 10 restaurants, and a lounge that offers multiple cuisines and bars in its province. Each room of the hotel is equipped with deluxe bedding, marble bathrooms, complimentary wi-fi, and 24-hours room service.
If you wish to explore the city while staying at the hotel, Burj Khalifa, Dubai Mall, and Dubai Opera are just a few minutes away. 
Hotel Crowne Plaza Dubai
The Hotel Crowne Plaza Dubai is located at the Sheikh Zayed Road right across from the Dubai International Convention Centre. The hotel boasts spacious rooms and suites with free wi-fi, satellite TV, wooden polished floors, and 24-hours room service. The hotel also has a range of restaurants, bars, swimming pool, gym, and 1 complimentary valet parking is available each day for the guests.
The hotel is just 20 minutes away from the Dubai International Airport and a few steps away from the Dubai International Finance Center and the Emirates Towers Metro Station. All the major attractions of Dubai are also not very far off from the hotel. 
25hours Hotel One Central
Located near La Mer Beach, the 25hours Hotel One Central offers a luxurious stay to the tourists with a restaurant, free private parking, a bar, a garden, a terrace, and a swimming pool. It also offers quick currency exchange for the guests, 24-hours front desk service, and room service.
Each room of the hotel is equipped with AC, a flat-screen TV, a seating area, a safety deposit box, private bathrooms with all the toilet essentials. Bed linen, towels, bathrobes, and slippers are also available in each room.
Each morning the guests are served with buffet breakfast. The guests can also enjoy playing billiards and go for cycling within the province of the hotel.
All the major attractions of Dubai are near to the hotel.