On 27th April, a total of 829 Express Entry applicants were invited by Canada to apply for permanent residence. 
All the invited applicants have already received a nomination from the Provincial Nominee Program (PNP) & had a Comprehensive Ranking System (CRS) of a minimum of 772. A minimum score is really high as applicants of Express Entry automatically get 600 points to their score whenever they are getting the provincial nomination. 
In the last round of the invitation, IRCC issued the invitation to 787 PNP applications with a minimum score of 782.
CEC & FSWP draws will resume from July
Recently immigration Minister of Canada Sean Fraser announced that Canada is resuming the Canadian Experience Class (CEC) & Federal Skilled Worker Program (FSWP) draws in early July. A considerable amount of the latest Express Entry applications will surely be processed within six months of the service standard.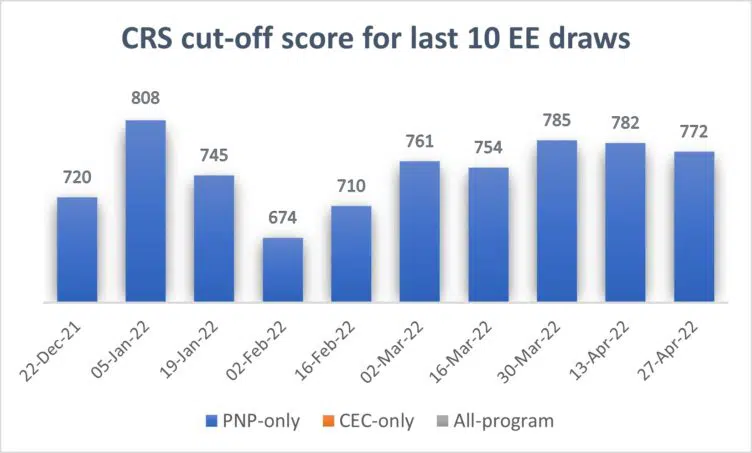 Before the COVID19, IRCC never held the PNP draws regularly. After that, they started inviting the applicants of CEC to achieve the goal of attracting a considerable amount of candidates in a single year amid the restrictions of traveling. It was a great strategy where; Canada landed a record 405,000 permanent residents in 2021. 
Backlog related issue
They have offered lots of benefits to the candidates who are already in Canada, but the downside is that the strategy of IRCCs already results in backlogs within the immigration system, including Express Entry. They haven't issued the invitation for the FSWP applicants since December 2020.
CEC applicants haven't received any kind of invitation from September 2021. They have started facing this issue because they are already dealing with the record-high job vacancies & record low unemployment.  
FSWP has become one of the most popular & main sources for skilled foreign immigrants. But IRCC has already started work, and they will surely welcome approximately 110,000 immigrants via Express Entry By 2024. If you need the latest news related to the Canada immigration then you must check the visadekho where you will get regular updates related to the Canada Immigration.