Right from the beginning of the Dubai Shopping Festival, it has brought exciting events to entice worldwide tourists. This time, highlights revealed the wonderful performance of about 300 drones filled with stunning lights and vibrant sound at the famous Dubai Drone Light Show.
Drone Show-the Longest Consecutive Middle East Show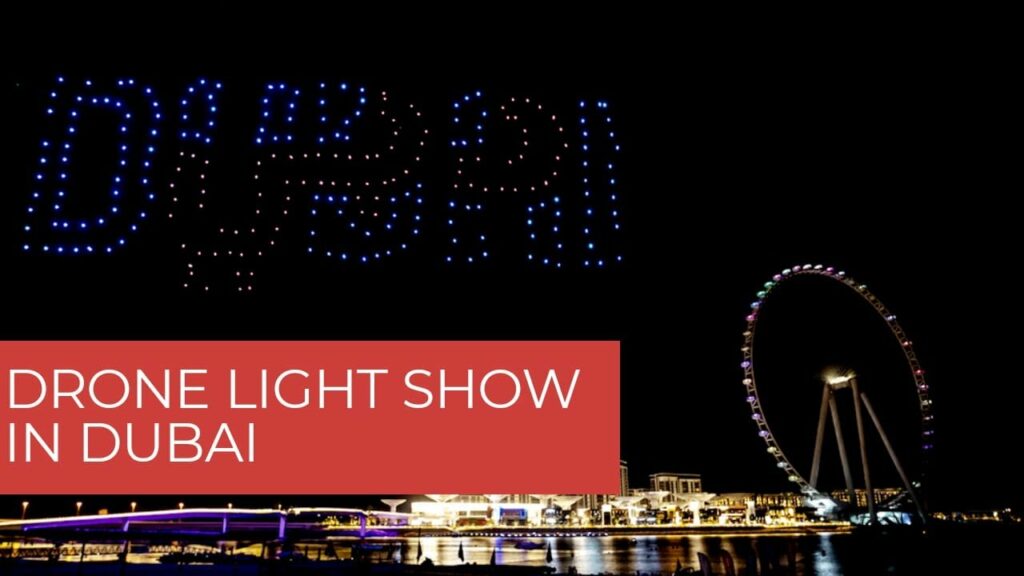 The Mega drone light show is going on in a row during the entire Dubai Shopping Festival. The show is going on above the Beach, which is opposite Jumeriah Beach Resort. Moreover, visitors may view the drone light show above the Sheraton JBR and Bluewaters. The DSF Drone Light Show will go on for 45 days daily. Indeed, it will become the longest-held show in Europe, the Middle East, and Africa.
Schedule of the Drone Light Show at DSF
Dubai visitors and residents may view two mega performances in Dubai Drone Light Show at the Dubai Shopping Festival. Scheduled to continue until January 30, the shows will feature tons of animations. Every day, the first show kicks off at 7:00 pm and the second show commences at 9:30 pm. Each of the performances will go on for four minutes and one can watch it free.
First Show by the Drone Event
The first show of the Drone Event highlights the things to do and see in different areas of Dubai. The show is Dubai, an Adventurous City, and features two favorite characters Dana and Modesh. Both of them will explore exclusive offerings of the city.
Second Show by the Drone Event
The second show will highlight the journey of Dubai City from its old to the new one. Titled Dubai from its Past to its Present, the light show will highlight where Dubai has actually started and where it has now headed in the future. Dubai Kawkab Aakhar, the official song sung by Rashed Al Majed is the attraction of the event. The song translates, as Dubai is a new planet to see.
Both light shows have the same objective, i.e. to highlight Dubai as a worldwide-leading destination and a must-visit city of the world. Furthermore, DSF Drone Light Show organizers collaborated with TikTok. The team will broadcast the shows to about 22 countries of the world.
How to Watch Drone Light Show Live
The Sheraton Jumeriah Beach Resort is inviting its diners to enjoy the flying performance while obtaining massive savings on food and drinks at its outdoor venues. Moreover, you will enjoy dining and watching drone events live at Al Hadiqa and Bliss Lounge restaurants.
An interesting aspect is that guests will save about 25 percent on their chosen food and beverages. Other than that, the hotels offer exclusive rates on their rooms. Audiences may watch DSF Drone Light Show daily from many other cafes and restaurants at Bluewaters. Excluding super views of the drones, you will enjoy panoramic views of the skyline in Dubai.
Experts Comments on the DSF Drone Light Show Event
CEO at the Famous Merex Investment Group LLC
Shahram Shamsaee is the Chief Executive Officer of Merex International Group LLC of Dubai. He commented, "The Dubai Shopping Festival is a popular festival of the city among travelers, foodies, and shopaholics across the world. The event is an anticipated and distinctive one during 2021 for the residents of the UAE. We are promoting the vision of the city's wise leadership followed by the long-term success of the Emirates."
A Spokesperson from a resort near Bluewaters
A spokesperson from a resort near Bluewaters commented, "We are happy to collaborate with DSF organizers to entertain Dubai Shopping Festival attendees with a unique Drone Light Show. We are well aware of the consistent growth of Dubai to identify something extraordinary. We all have started hosting the longest-running drone light shows in the entire region of the Middle East. Simultaneously, DSF organizers are strictly complying with Covid-19 protocols to give you a unique shopping and entertainment experience for you and your family members."